I do not have a green thumb. Whatever skills it takes to ensure houseplants grow and thrive, I don't have them. While I have been able to care for succulents with a certain amount of success, I am still pretty sure those houseplants would be better off in someone else's house. That's why this paper succulent arrangement is perfect for me and for any other moms out there who haven't been blessed with green thumbs.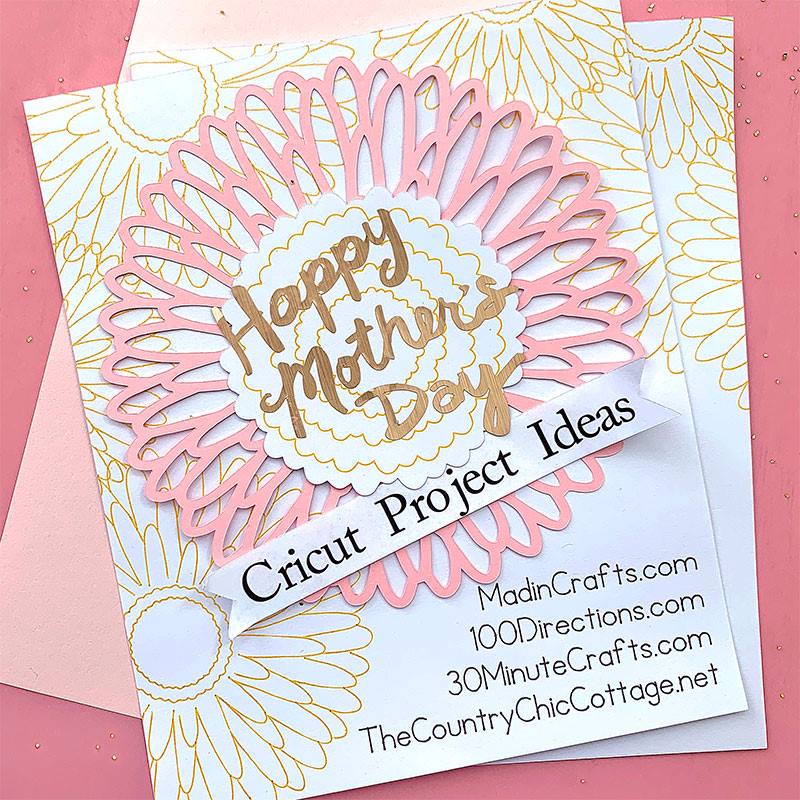 Since your mom has already spent her whole life caring for you, give her a Mother's Day gift that requires no care at all! This is my final project in this week's Cricut Mother's Day extravaganza. Be sure to check out all of the amazing projects linked at the end of this post.
PAPER SUCCULENT ARRANGEMENT
Supplies You Will Need
Use THIS CUT FILE to create six paper succulents for your arrangement. I chose to cut my succulents from cardstock in realistic succulent colors, but you can choose any colors you like. You will need both the fine point blade and a scoring tool (either the stylus or the scoring wheel) to make your succulents.
How to Assemble Paper Succulents
Watch this video to see how to assemble the two varieties of paper succulents and how to arrange them to create a sweet gift. Hop over and subscribe to my YouTube channel for more creative videos like this.
How to Arrange DIY Papercut Succulents
I used my foiled geometric planter to hold my succulent arrangement because I liked the way the angles of the planter accented the succulents. You could use a regular pot, a terracotta planter, or a mason jar to hold your arrangement. The wood skewers make positioning the succulents in the container very easy. I tried to balance the arrangement by alternating colors and shapes as I placed the paper succulents in my planter. Experiment with different arrangements until you find one that looks best to you!
How to Use Paper Succulents
Of course, you can use these paper succulents for much more than Mother's Day gifts. I think they would make beautiful table decor at a bridal shower, as accents on a wreath, or even made into a succulent crown! The cut file and assembly process would work in the same way for any of those projects.
These are all affiliate links, if you make a purchase (of anything from these retailers, not just these items) after clicking through, I will earn a small commission. Ads and affiliate links are the way I am able to keep this website running and to offer you free tutorials all year long. Thank you so much for supporting me and Mad in Crafts!
Take a look at all the other DIYs shared this week!