It used to be tradition to give Mom a pretty floral corsage on Mother's Day. Corsages are beautiful but impractical. Without any water to keep them looking fresh, a corsage usually ends up looking wilted and droopy after just a few hours. This year opt for a pretty paper flower corsage for Mother's Day. This corsage will not only last the day, but for weeks and months to come! See how to use your Cricut machine to make a corsage yourself.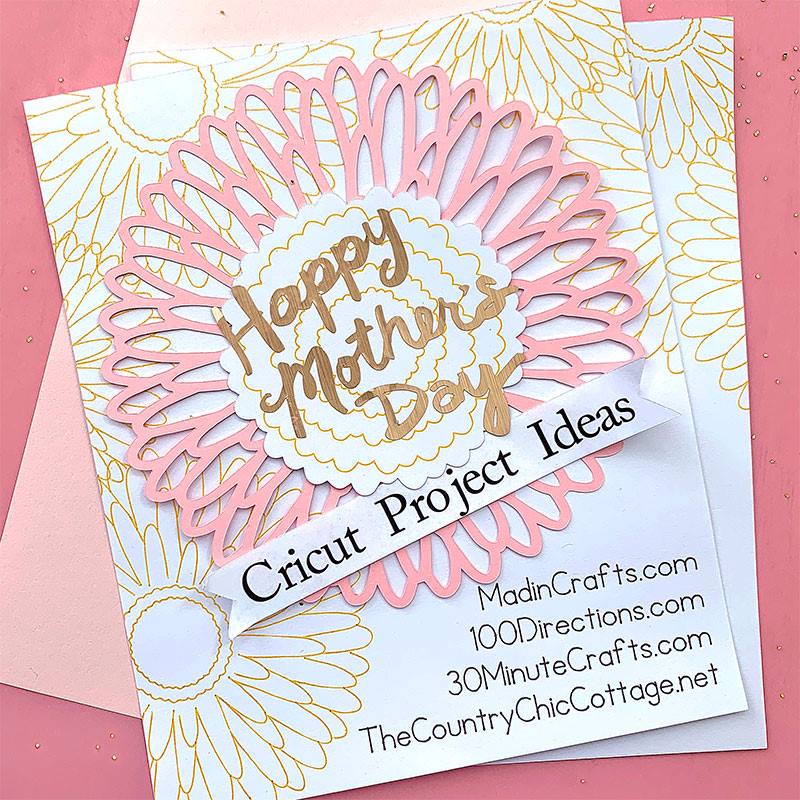 This is the first of five Mother's Day Cricut crafts I will be sharing with you this week. Other creative bloggers and I have teamed up to show you how to use your Cricut machine to make cards and gifts to show Mom how much you love her. Stick around for your chance to win a pair of Cricut machines — one for you, and one for Mom!
PAPER FLOWER CORSAGE FOR MOTHER'S DAY
Supplies You Will Need
You will need to begin by cutting all the pieces of THIS CUT FILE out of colored cardstock. As you can see, I altered the color scheme of the original project slightly. You can feel free to use whatever colors you would like. Match the party decor, your prom dress, or just pick Mom's favorite colors. Stick to greenish shades for the leaf layers, if you would like to keep the corsage looking natural. Or go wild and use patterned cardstock. It's totally up to you!
How Do You Assemble a Paper Corsage?
In this video, I walk you through the process of assembling the cut pieces into a beautiful corsage. If you aren't already subscribed to my YouTube channel, please consider it! It is totally free to subscribe, and I release two new videos every week!
How Can you Wear a Cricut Corsage?
The original Design Space project gives instructions for turning the finished piece into a wrist corsage. I opted to hot glue a brooch pin to the back of the paper flowers so that it can be worn like a standard corsage. You could also hot glue the finished piece onto a headband to take this project in an entirely different direction. That's what I love about crafts like this, just let your creativity run!
[mailerlite_form form_id=1]
These are all affiliate links, if you make a purchase (of anything from these retailers, not just these items) after clicking through, I will earn a small commission. Ads and affiliate links are the way I am able to keep this website running and to offer you free tutorials all year long. Thank you so much for supporting me and Mad in Crafts!
Don't have your own Cricut to make this fun craft? We've got you covered! Enter below to win one for you AND one for your mom. And we're throwing in some cash to help you build your stash of accessories and cutting materials too!
Be sure to check out all the other amazing Mother's Day Cricut crafts this week: