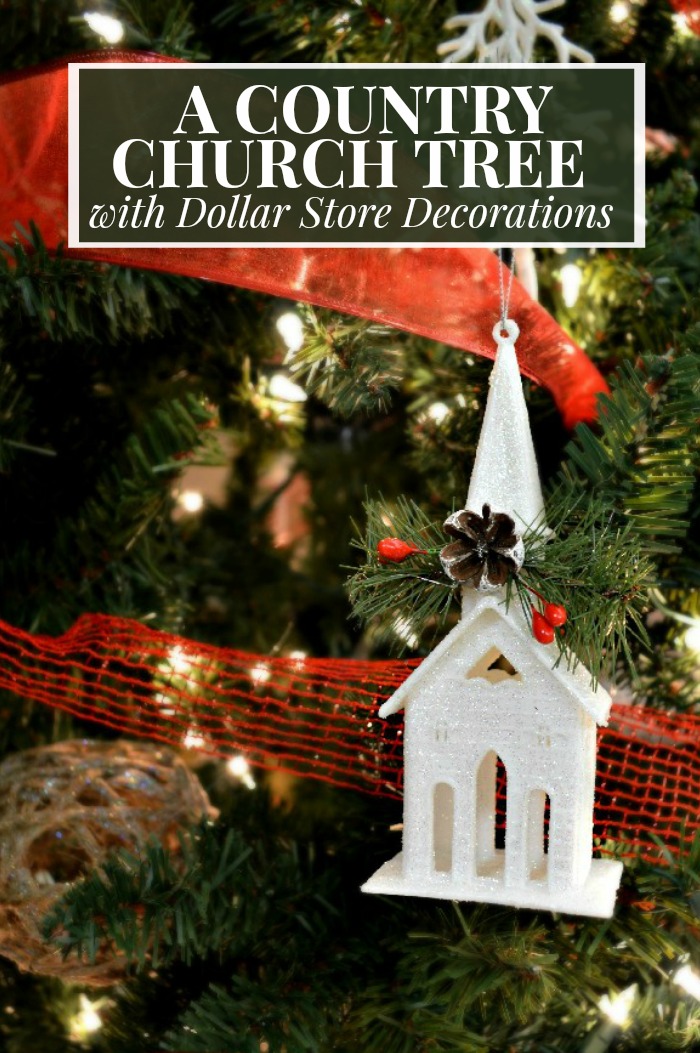 For the past few years, I have set up trees in my son's school and my dad's church. Since we do a "family tree" at home, these trees give me the chance to create themed trees as well. I decorated a Names of Christ tree for my son's parochial school two years ago, and a Church Anniversary tree for my dad's church's tree last year. Since it is no longer that church's anniversary year, I designed a new look for that tree this Christmas. Using ornaments from the dollar store, I created a country church tree that fits their space perfectly.
I didn't start out with a specific theme in mind for this tree, just a red and white color scheme, but I ended up calling it the Country Church Tree once it was finished. The vast majority of the decorations on the tree are from the dollar store. If you watched my Dollar Tree Christmas haul, you probably recognize a lot of the ornaments. With the exception of the flocked branches and the twine ball ornaments, everything else on the tree was purchased at the dollar store. You really can pull together a nice looking tree using inexpensive ornaments.

MY LATEST VIDEOS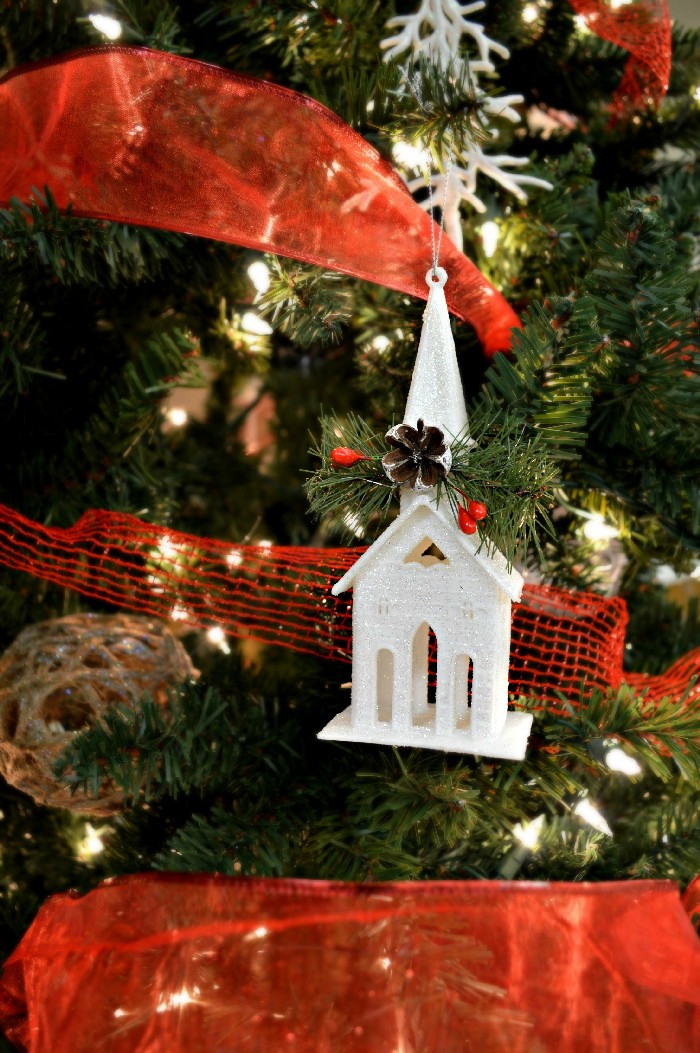 The starting point for this tree were these adorable white church ornaments. My dad's church is a small, white church with a steeple much like this ornament. I repeated this ornament all around the tree.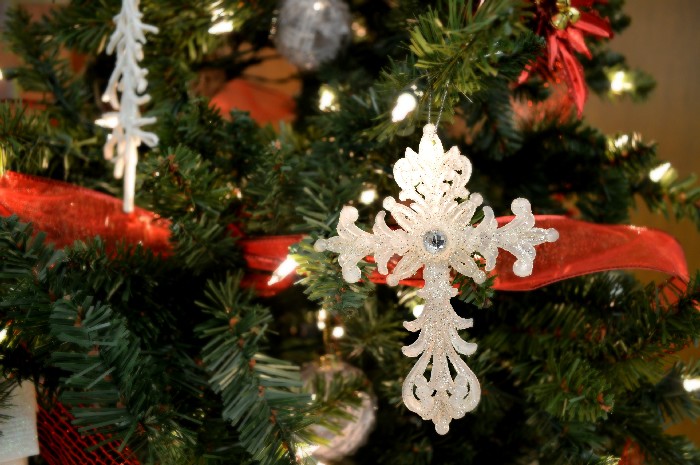 I used these glittery cross ornaments on this tree last year, but since Christ is always the focus of Christmas, they made their way back onto the tree again this year.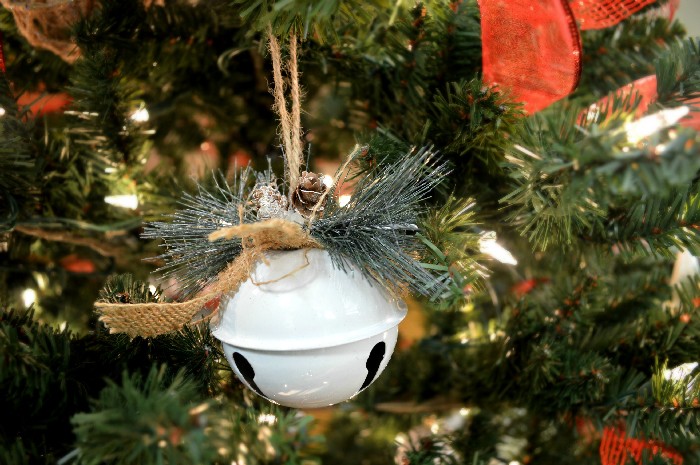 Instead of traditional ball ornaments, I tucked several of these old-fashioned looking bell ornaments into the tree branches.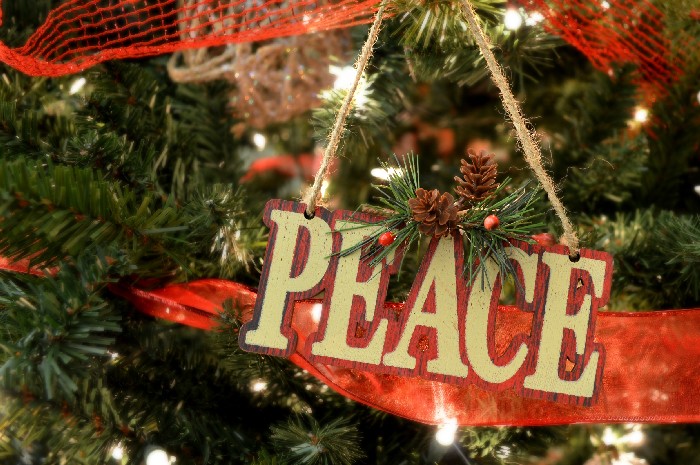 Dollar Tree carried these word ornaments in three varieties, and they are scattered around the tree as well.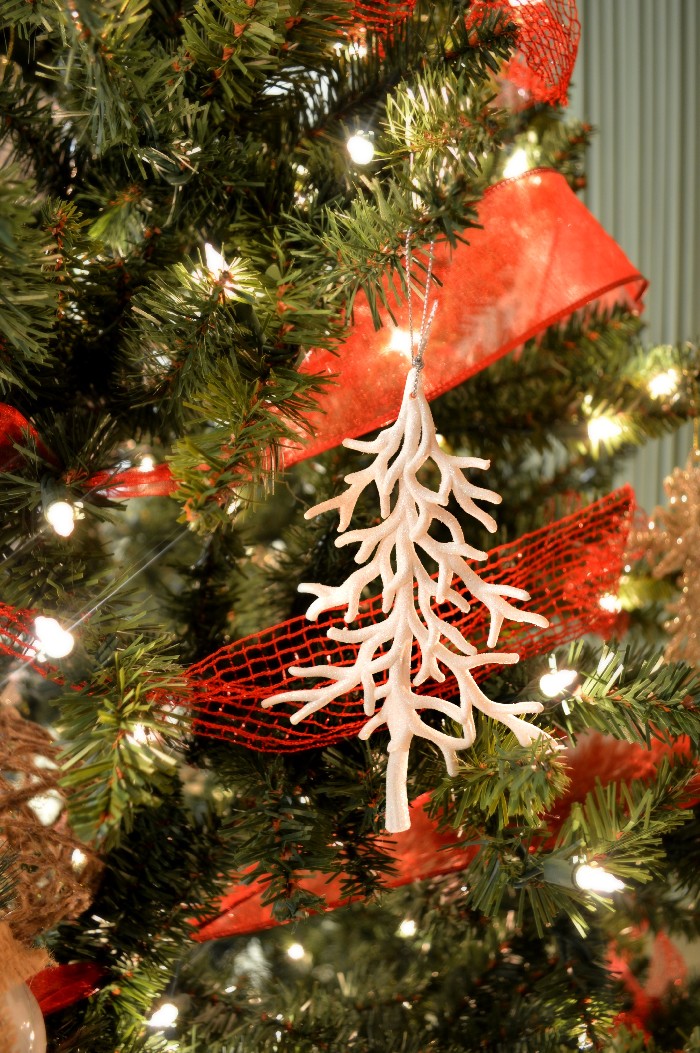 I wasn't sure I was going to use these sparkling tree ornaments on this tree because they are more modern looking than the other ornaments I chose, but I ended up liking the stark white against the red ribbons. I used two kinds of ribbon from the dollar store to wrap the tree. One is a sheer wired red ribbon, the other is a red mesh.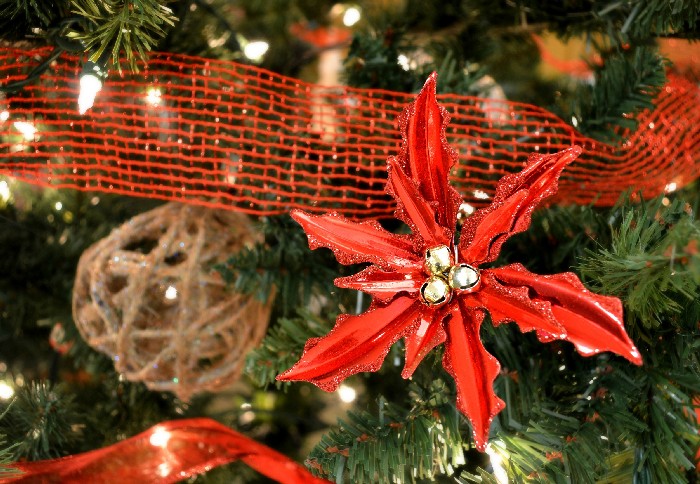 These metal poinsettias are my favorite Dollar Tree find this Christmas. They are sturdy and colorful, and they look like vintage tin ornaments. Once I had all the main ornaments on, I wasn't really satisfied with the way the tree looked. It seemed flat to me. I solved that problem by pulling out the twine ornaments and the faceted ball ornaments I made last year and tucking them way back into the branches. Adding the extra dimension of ornaments inside the tree made a huge difference in the finished look.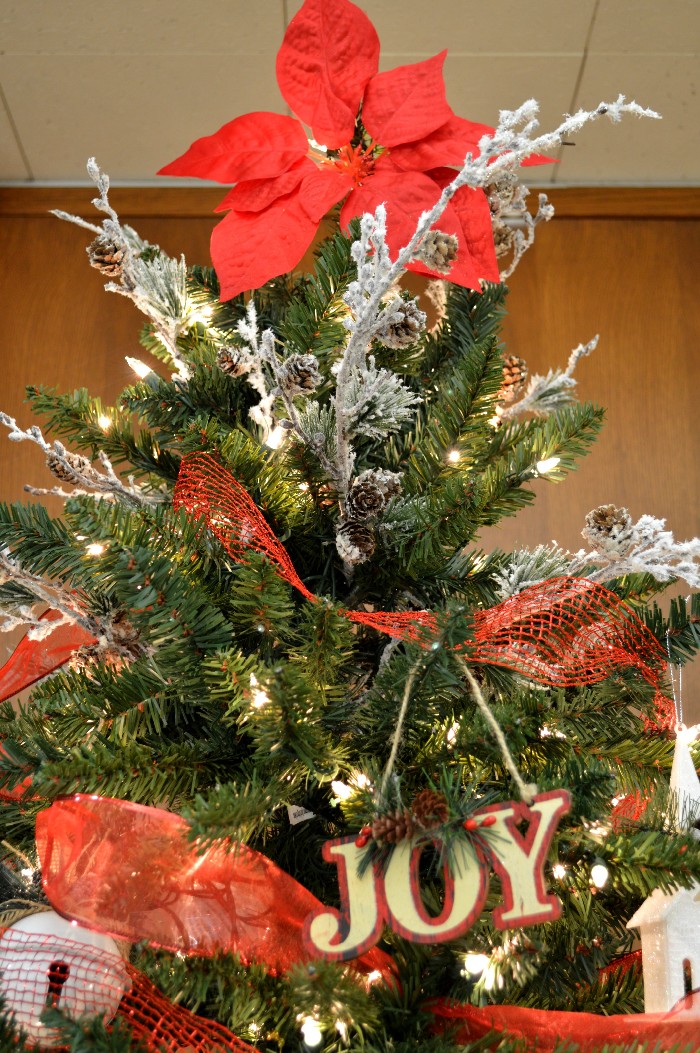 I cut apart a few flocked branches that I found at Michael's, and stuck them into the top branches of the tree. Dollar Tree carries floral sprigs too, I just happened to already have these on hand. Then I finished the topper with a giant poinsettia clip ornament from the dollar store.
I am so happy with the way this tree turned out, especially since the decorations were so economical. Do you use dollar store decorations in your Christmas decor? Let me know in the comments below!
You might also like these dollar store Christmas projects: