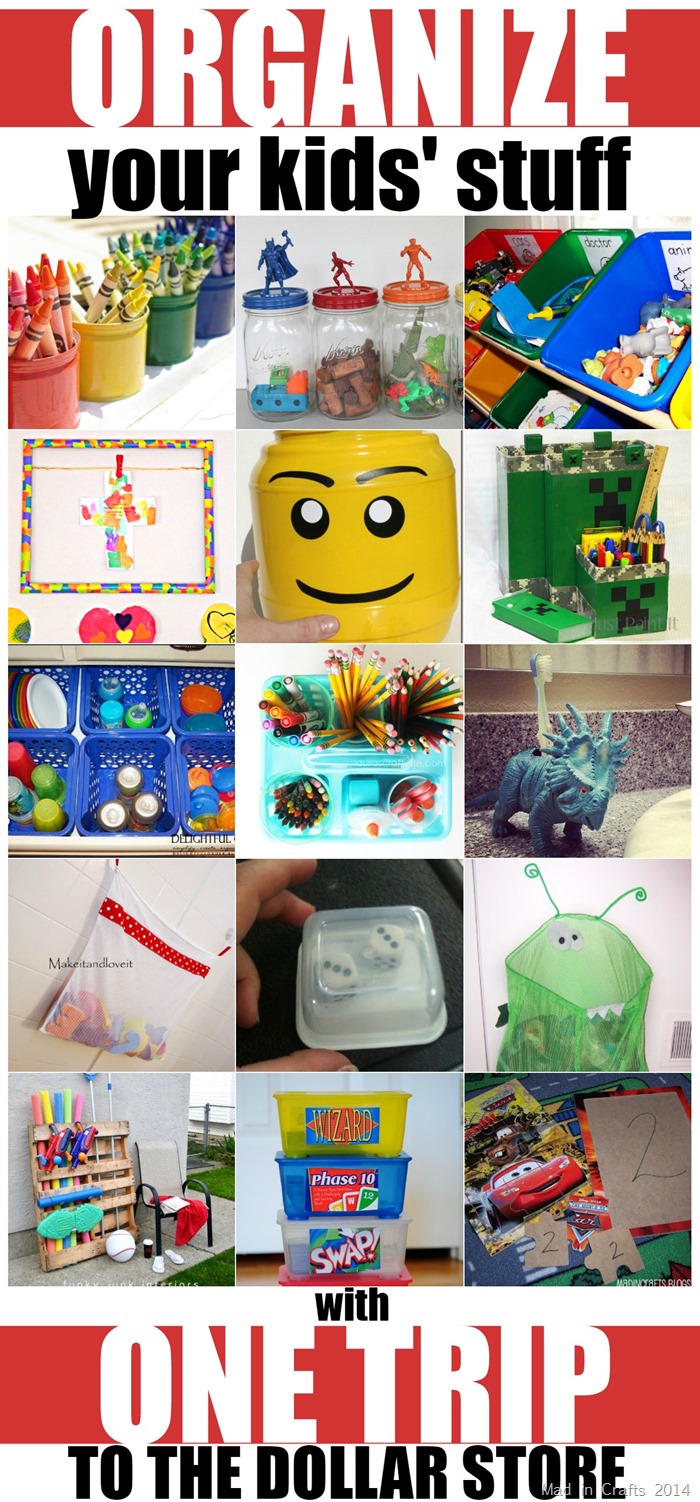 Nothing can de-organize a house as efficiently as a child. Between the limitless amount of gear they require, the toys they play with, and the messes they make themselves, keeping kid stuff organized can seem like a battle you can't win. I have rounded up 25 ways to help organize all of your kids' things with dollar store supplies.
WIPES CONTAINER GAME STORAGE – JAZZIE AND TAHLIA
MAGNETIC TOY STORAGE – DOLLAR STORE CRAFTS
TOY BIN LABELS – MAD IN CRAFTS
PUZZLE ORGANIZING TIP – MAD IN CRAFTS
SUPER HERO JARS – THE COUNTRY CHIC COTTAGE
BATH TOY STORAGE – MAKE IT AND LOVE IT
STORING DICE – CARDIGANS AND CURRICULUM
UPCYCLED LEGO STORAGE – OBSEUSSED
PALLET POOL TOY STORAGE – FUNKY JUNK INTERIORS
BARBIE DOLL STORAGE – ALL ABOUT MOMMIES
DIAPER BOX STORAGE BINS – BY STEPHANIE LYNN
MINECRAFT DESK ORGANIZER – JUST PAINT IT!
MOD PODGED LETTER BOW HOLDER – MOD PODGE ROCKS!
HOMEWORK CADDY – LAURA'S CRAFTY LIFE
HOMEWORK FEATURE FRAME – MAD IN CRAFTS
MONTESSORI-STYLE CRAYON HOLDER – HAPPINESS IS HOMEMADE
COVER BINS WITH FABRIC – STOCKPILING MOMS
PAINT ROLLER HEADBAND RACK – DOLLAR STORE CRAFTS
KIDS ARTWORK DISPLAY – MAD IN CRAFTS
ROBOT DIAPER STORAGE – MAD IN CRAFTS
MONSTER LAUNDRY BAG – MAD IN CRAFTS
SORT TOYS IN ZIPPER BAGS – HOME TO HEATHER
PLANTER TO HANGING TOY STORAGE – DIY INSPIRED
DINO TOOTHBRUSH HOLDER – THAT MAMA GRETCHEN
ORGANIZED SIPPY CUP DRAWER – DELIGHTFUL ORDER