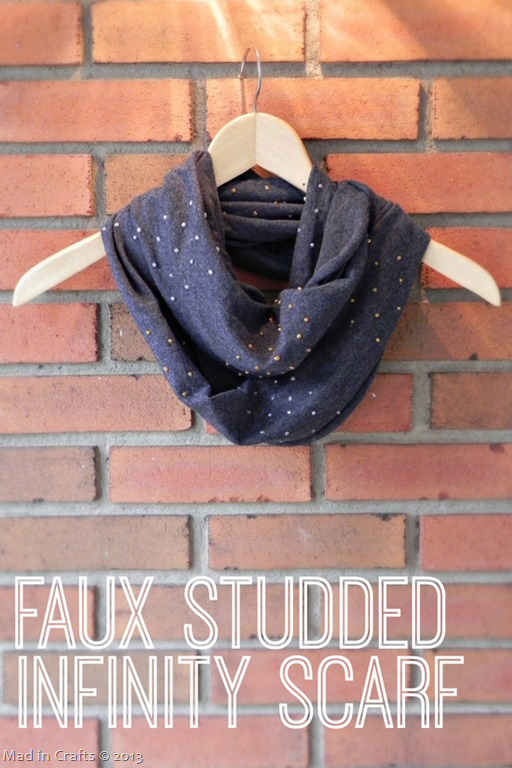 This is a sponsored post. I received product and was compensated to create this project, but the opinions in this posts are 100% my own.
Christmas and New Year's are perfect times to add some glitter to your wardrobe, so I thought I would add some
Tulip Sparkle and Shine
to an infinity scarf I had on-hand. Tulip makes a wide variety of glitter and sparkle products that are great for all your holiday DIYs, whether you are adding a sparkly touch to your wardrobe or making sophisticated seasonal décor like
these glamorous trees from iLTC.
I tried out their glitter Beads in a Bottle and now my plain jersey scarf is pretty enough for a holiday party!
For this project, I used a grey jersey infinity scarf I made for myself a few years ago. All you need to do to make one yourself is to find a large t-shirt that doesn't have side seams. Cut off the bottom hem and then make a parallel cut under the arms. Instant infinity scarf!
To add some festive embellishment, I used Tulip's Beads in Bottle to create little faux studs all around the scarf. Lay the scarf on a flat surface, and dot the Beads in a Bottle in whatever pattern you like best.
When you dot the Beads in a Bottle on the fabric, it will leave a little peak. But,
as you can see
, the self-rounding formula pulls the peak down into a small dot in seconds. It's pretty cool.
I decided on a pattern of staggered "studs" and created stripes using both the gold and silver Beads in a Bottle. I freehanded the spacing, so the lines aren't perfect, but any wonkiness won't be visible when it is worn.
I dotted one half of the scarf and let it lie flat for 24 hours to give the Beads in a Bottle time to dry. Then I dotted the other half of the infinity scarf so it was studded all the way around the circle.
I used not quite half of each of the gold and silver Beads in a Bottle tubes to create this one large infinity scarf. You could make several of these scarves as Christmas gifts for friends and relatives. They have a luxe look, but won't bust your budget!
You can find out more about Tulip's sparkling products on facebook, twitter, pinterest, and on the I Love to Create blog!
---
Did you like this post? Think it's worth sharing? Please share with your friends using the social media share buttons on the toolbar at the bottom of the page!