The problem with buying school supplies at the store is that everyone's supplies look the same. The same colors, the same cartoon characters… don't you want your supplies to stand out? Today I am sharing a quick and easy way to customize a plain notebook and turn it into a beautiful and easy mermaid journal!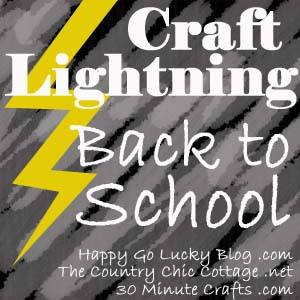 You guessed it! This project is my entry in this month's Craft Lightning. This month hosts Kara of Happy Go Lucky, Carolina of 30 Minute Crafts and Angie of The Country Chic Cottage challenged a group of bloggers to create a back to school tutorial that could be made in 15 minutes or less.

I made a quick video while I was decorating the notebook cover so you can see how easy it is to do. I publish two videos like this on my YouTube channel every week, so hop over and subscribe so you don't miss any of the fun!
I started with a Martha Stewart notebook, so it was already an aqua color, but you can use any notebook you can find. I used a variety of acrylic paints (supply list below) to create brushstrokes in shades of aqua. I think it looks best if you use shimmery or glittery finish paints, but you can decide what you like best!
Because it looked so pretty, I considered stopping after the paint had dried. But… I had some mermaid washi tapes that were calling my name. I added on a few strips of washi, but that part is totally optional. And that's it! I told you it was easy. You have to allow the paint to dry before adding the washi tape, but the total work time for this project is about 5 minutes. That's all it takes to create a school supply that is one-of-a-kind.
Be sure to also check out the other back to school project my fellow craft bloggers have created for this month's Craft Lighting. Visit Happy Go Lucky, 30 Minute Crafts, and The Country Chic Cottage all week for dozens of quick and easy tutorials.
These are all affiliate links, if you make a purchase (of anything on Amazon, not just these items) after clicking through, I will earn a small commission. Ads and affiliate links are the way I am able to keep this website running and to offer you free tutorials all year long. Thank you so much for supporting me and Mad in Crafts!
Check out these other mermaid DIYs: