I don't remember having many fireflies in our yard growing up. We've always lived in a city, so that might explain it. When we would go to visit my grandma and grandpa in Wisconsin though, they always had fireflies in their backyard at night. I honestly don't remember if I was brave enough to try catching any in a jar myself, but I do love watching them glow on a summer night. We have spotted some fireflies in our neighborhood this summer, and my kids have been bugging me to help them catch some. I might have to extend their bedtime one night so we can try to catch lightning in a bottle. This craft will let you catch some summer lightning bugs and keep them with you all year long.
These firefly in a mason jar key chains would be a great project for kids to make at a summer camp, or you could make a few before they leave for camp and use them as luggage tags. Or, you could just make one and hang it from your keys because these key chains are awfully cute!

FIREFLY IN A MASON JAR KEYCHAINS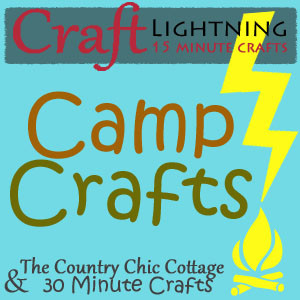 It's time for another round of Craft Lightning with The Country Chic Cottage and 30 Minute Crafts. This month's projects all center around a camp theme, and each project can be made in less than 15 minutes.
GLOW-IN-THE-DARK FIREFLY KEY CHAINS
Watch this short video to see how to make the key chains or scroll down for stepped out photos. Be sure to subscribe to my YouTube channel for more fun videos like this!
WHAT YOU NEED TO MAKE FIREFLY KEY CHAINS
The thought process for this project was instigated by these super cute mason jar tags. The package contained two sizes of wood tags; these are the larger of the tags at about two inches long. I didn't know what I was going to do with them when I saw them at the craft store, but they managed to jump into my cart anyway.
I have also had glow-in-the-dark duck tape sheets in my stash since SNAP! and I have been looking for a way to use them. My brain put the two materials together to make a fun keychain that would look like a glowing firefly caught in a mason jar! The project is so quick and easy to make that I was able to get some crafting done while my kids played outside before dinner. You can easily make a few of these key chains in less than 15 minutes.
These are all affiliate links, if you make a purchase (of anything from these retailers, not just these items) after clicking through, I will earn a small commission. Ads and affiliate links are the way I am able to keep this website running and to offer you free tutorials all year long. Thank you so much for supporting me and Mad in Crafts!
I started by painting the lid portion of the tags with metallic silver paint. You don't need much, so it dries quickly.
While the paint dried, I cut some teardrop shapes out of the glow-in-the-dark duck tape. I just freehanded the shape, trimming it so that it fit within the jar.
I busted out the fine-tip black Sharpie to add details to the fireflies (lightning bugs – whatever you call them where you live). Just don't add too many details to the tape itself because the ink masks the glow.
I also added my kids' names to the back of each tag, but you could add a special message or the name of your favorite camping spot.
Finally, I added some lanyard hooks and split rings to the tags to turn them into key chains (or zipper pulls or luggage tags or lanyard charms).
GLOW-IN-THE-DARK KEY CHAIN
When I first chose to use the glow-in-the-dark duck tape, I figured it would have the same glowing power as the star stickers in my son's space bedroom. I was wrong. This stuff GLOWS! The packaging says that the tape is fully "charged" after 30 minutes of sun exposure, but mine did not take that long. I can't wait to find more uses for this cool tape.
Have fun making some of these fun key chains, and then head out and do some real lightning bug catching of your own! Your kids will love it! Be sure to check out 30 Minute Crafts and The Country Chic Cottage each day this week for round-ups of all of the quick projects being shared for this round of Craft Lightning.
You might like these other fast crafts:
MASON JAR CHALKBOARD IN 15 MINUTES