I had never heard of alcohol inks until I started my craft blog. Now they are one of my favorite crafting supplies to play with! Alcohol inks are alcohol-based inks (duh) which means they deposit liquid color on your project but dry very quickly. They are popular with mixed media crafters because they work on so many different surfaces, from paper to metal. These are just a few creative ways to use alcohol inks in your projects!
CREATIVE WAYS TO USE ALCOHOL INKS
WHY USE ALCOHOL INKS?
If you have never given alcohol inks a try, you really should. The inks are alcohol-based so they are fast-drying which is great for quick crafts. Before it sets, you can clean the ink off of non-porous surfaces with isopropyl alcohol, but I always recommend wearing gloves to protect your skin. The ink will temporarily dye your skin and permanently dye your clothes, so be careful!
I highly recommend Tim Holtz's inks (affiliate) for your alcohol ink crafts because the vibrant colors are so gorgeous.
FUN DIY ALCOHOL INK PROJECTS
WATERCOLOR OUTDOOR GLOBE LIGHTS
I decorated a string of regular globe lights to make a new set of outdoor lighting for my parents' camper, but you could just as easily hang these lights above your patio or in your dorm room as well. Check out how easy it is to make your own watercolor outdoor globe lights.
SEE THE DIY!
STAINED GLASS MASON JARS
Today I am sharing how to make faux stained glass mason jars with
alcohol ink
. Since the alcohol inks are waterproof, you can use these mason jars like you would normally.
SEE THE DIY!
STAINED GLASS EASTER EGGS
You can easily make several of the stained glass Easter eggs in that 10-minute time frame, so they are a perfect craft if you are crunched for time.
SEE THE DIY!
DIY Alcohol Ink Pitcher and Glass Set
Create to impress this summer with this DIY
Alcohol Ink
Pitcher and Glass set! A perfect fit for a backyard party or watercolor paint and sip.
SEE THE DIY!
STAINED GLASS CANDLE HOLDERS
Stained glass is at its prettiest when there is light streaming through it, but sunlight isn't the only light way to achieve that look. These faux stained glass candle holders allow you to enjoy illuminated stained glass even at night.
SEE THE DIY!
Alcohol Ink Jewelry Dishes
Learn use alcohol ink to make these beautiful ceramic floral themed jewelry dishes. They are super easy to create and make wonderful gifts.
SEE THE DIY!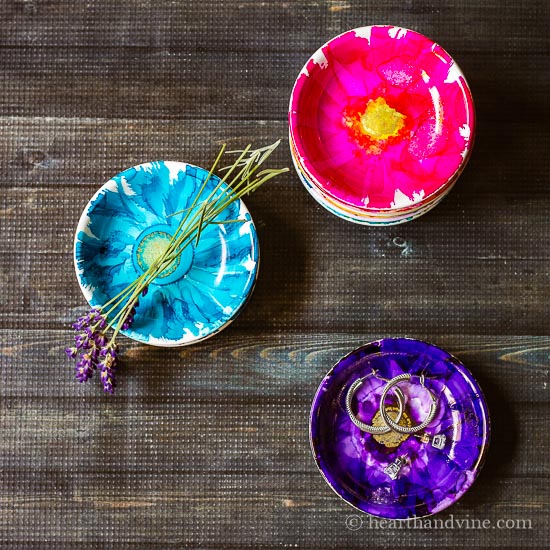 Food Safe Dishes with Alcohol Inks
Learn how to easily make food safe dishes with alcohol inks! Turn a thrifted glass plate, glass, or bowl into a colorful work of art with a blend of alcohol inks.
SEE THE DIY!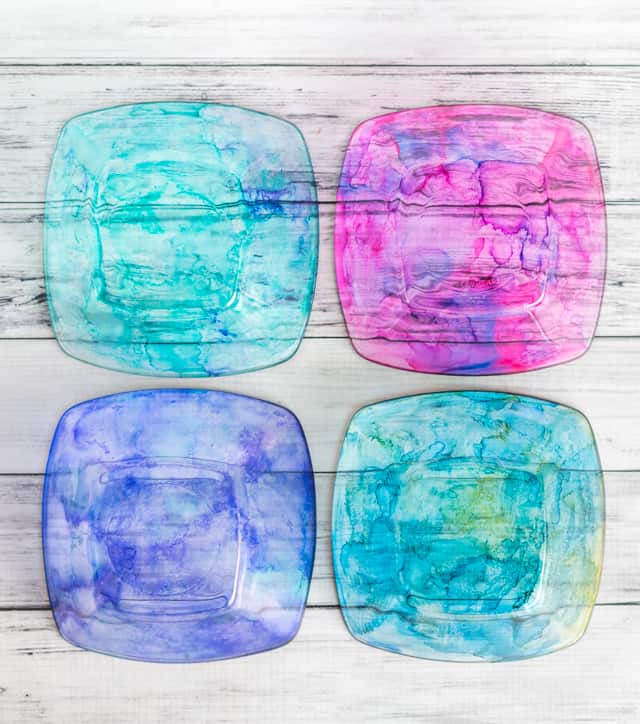 MARBLED ALCOHOL INK CHRISTMAS ORNAMENT
Today I am going to show you how to use alcohol ink to create a beautiful stained glass look on clear plastic ornaments. You can make a marbled alcohol ink Christmas ornament with amazing results with little to no effort!
SEE THE DIY!
Recycling Glass Jars Using Alcohol Inks
You probably have a ton of old glass jars sitting on the top shelf of your kitchen cabinets. Use this easy technique to transform those jars from blah to wow! You can even use it to reuse oui yogurt jars!
SEE THE DIY!
DIY It – Color Blocked Galaxy Mirrors
These mirrors again use a few basic craft store supplies and only a few colors of alcohol inks, but the effect is out of this world.
SEE THE DIY!
DYEING RESIN WITH ALCOHOL INK
Dyeing resin with alcohol ink is easy and fun, and you can get some fantastic results!
SEE THE DIY!
DIY Alcohol Ink Ornaments
I had to give alcohol ink ornaments a go. The result is a tinted glass look reminiscent of blown glass ornaments with a subtle shine and transparent color. And I just love the saturated jewel tones that the alcohol inks created.
SEE THE DIY!
INK DYED WOODEN TILES
I played with my wood burning kit, alcohol inks, and pour over resin to create these beautiful ink dyed wooden tiles.
SEE THE DIY!
Alcohol Ink Art on Vinyl
Learn how to make your own DIY Alcohol Ink Art on Vinyl! Creating your awesome abstract art on vinyl allows you to easily turn your art into cool decals!
SEE THE DIY!