There are any number of excuses I can make for why I haven't taken the time to organize our house: not enough time to do it all, don't know where to start, organizational supplies are too expensive, etc. It's easy to get discouraged and quit before I am even started. But the truth is, the supplies to get an entire house in order don't have to cost a small fortune. Most of them can be found right at the local dollar store.
To prove this to myself, and to you, I took a trip to my local Dollar Tree. ONE trip, no going back for forgotten items or things they didn't have in stock. I brought along my iPod and took photos of all the supplies they carry that can be used to get a house in order.
The uses for some of the supplies are obvious; you use the drawer organizers to organize drawers and the laundry bags to hold dirty (or clean) laundry. But you can use items found at the Dollar Store for many organizational purposes. How many, you ask? Well, how about one hundred?
I have compiled 100 ways you can organize your whole house using items from the dollar store. One trip, 100 solutions. Let's do this!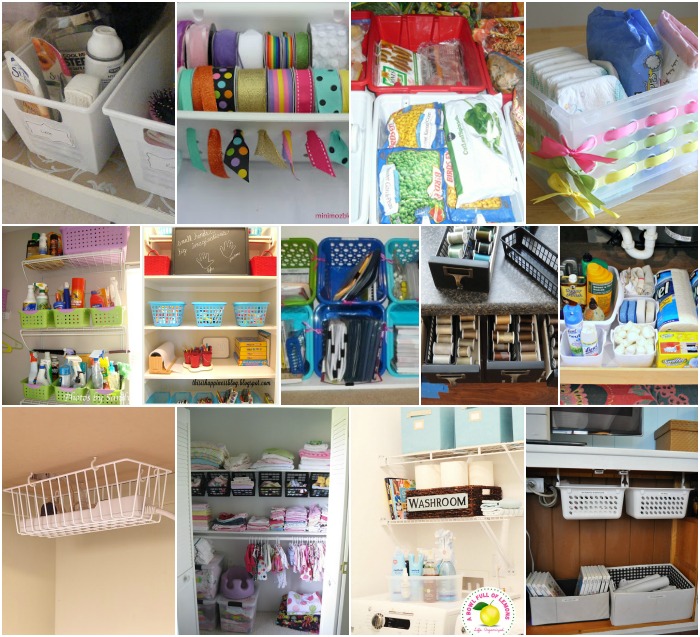 1. Keep Each Family Member's Toiletries Organized
2. Easy Ribbon Dispenser
3. Simple Freezer Organization
4. Pretty Storage Bins
5. Organized Cleaning Supplies
6. Organized Kids' Art Closet
7. Plastic Bin Bookshelf
8. Thread Organization
9. Under-Sink Drying Rack
10. Hide Your Power Strips
11. Extra Closet Shelves
12. Laundry Room Organization
13. Bins Turned Storage Shelves
14. Under the Sink Organization
15. Laundry Room Organization with printables
16. Organize Your Whole Bathroom
17. Labeled Closet Storage
18. In-Shower Storage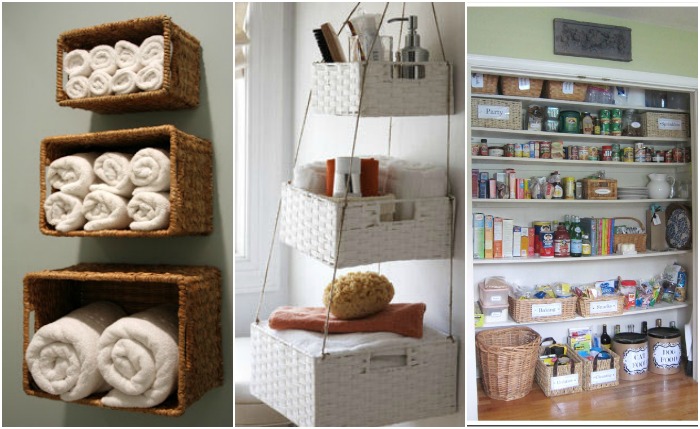 19. Hanging Baskets as Bathroom Shelves
20. Hanging Baskets
21. Pretty Pantry Organization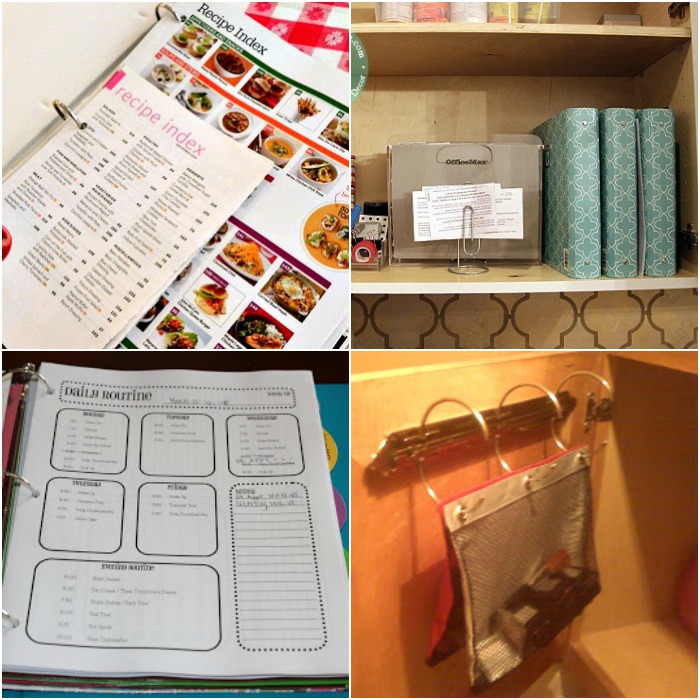 22. Cooking Magazine Binder
23. Home Command Center Binders with printables
24. Organization Binder with printables
25. Make-Up and Jewelry Organization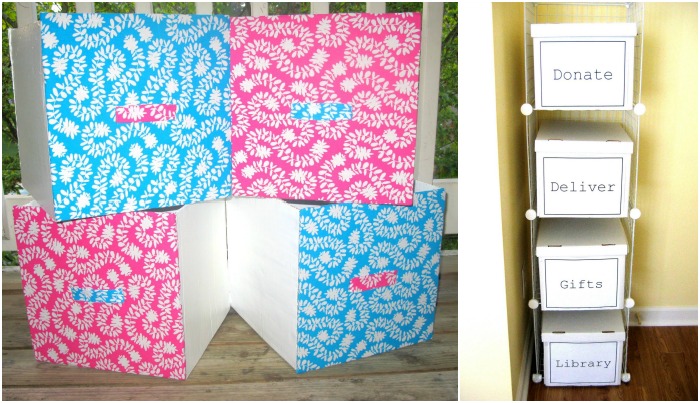 26. Shelf Drawers Made from Cardboard Boxes
27. Cardboard Boxes (Donate, Deliver, Library, and Gifts)
28. Kids Artwork Organization
29. Scrap Ribbon Storage
30. Tidy Bakers Twine Storage
31. Keep Tights Organized
32. Daily Menu Board
33. Organizational Wall Grids
34. Weekly Calendar
35. Whimsical Diaper Storage
36. Hidden Kitchen Storage

37. Gift Wrap Storage
38. Moving Day Organization
39. Off-Season Clothing Storage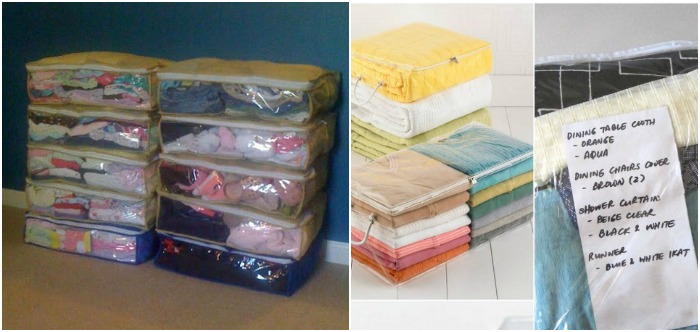 40. Outgrown, Kids Clothes Storage
41. Off-Season Clothes Storage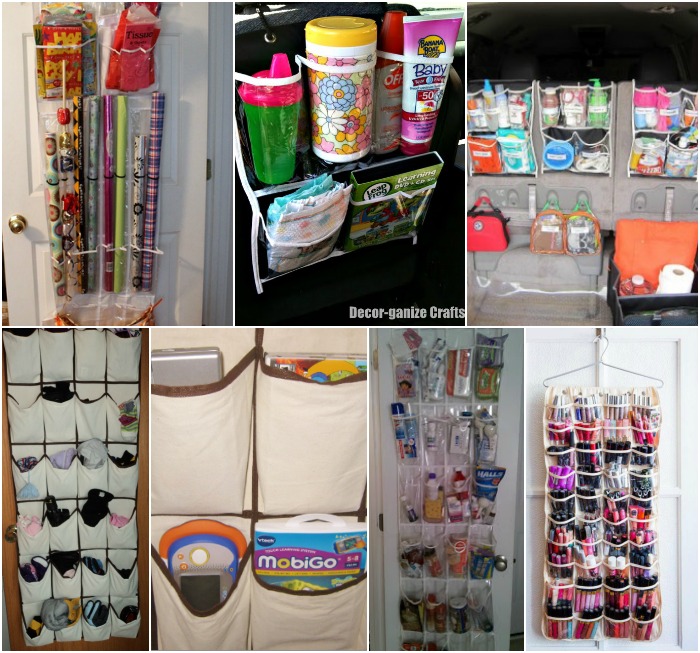 42. Gift Wrap Organization
43. Car Organization 1
44. Car Organization 2
45. Organized Winter Gear
46. Organized Video Games, Handheld Systems, and Chargers
47. Medicine Cabinet Organization
48. Nail Polish Storage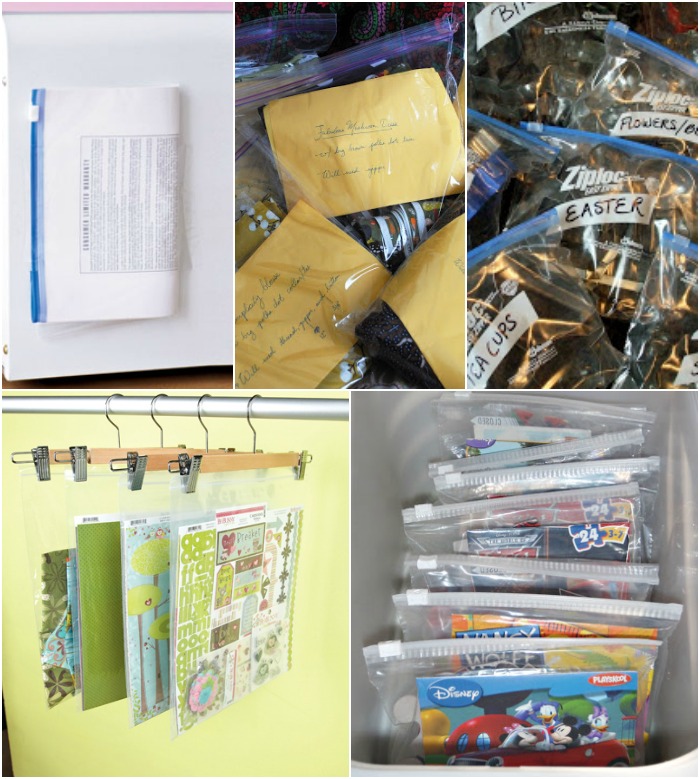 49. Store Operational Manuals
50. Organize Future Craft Projects
51. Categorize Your Cookie Cutters
52. Organize Your Scrapbook Supplies
53. Puzzle Storage Ideas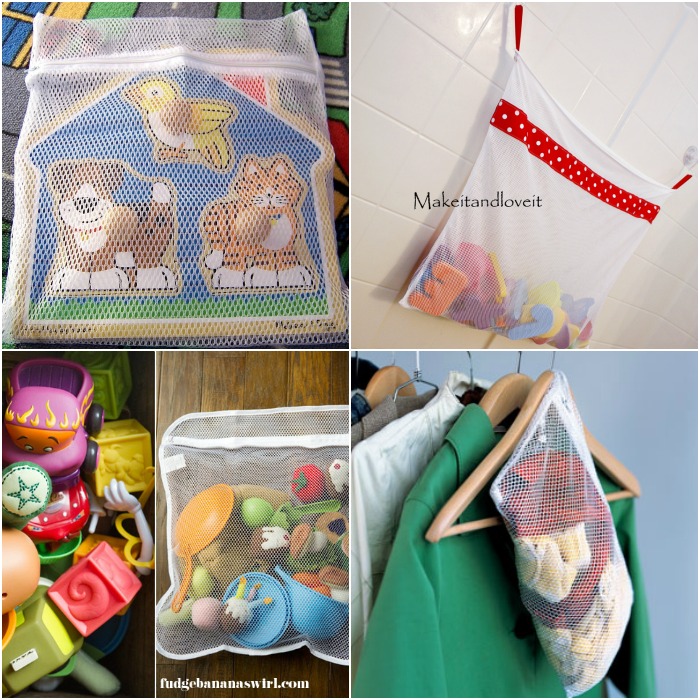 54. Puzzle Organization
55. Bath Toy Storage
56. Toy Organization
57. Extra Closet Storage
58. Simple Toy Storage
59. Yarn Organization
60. Beach Toy Storage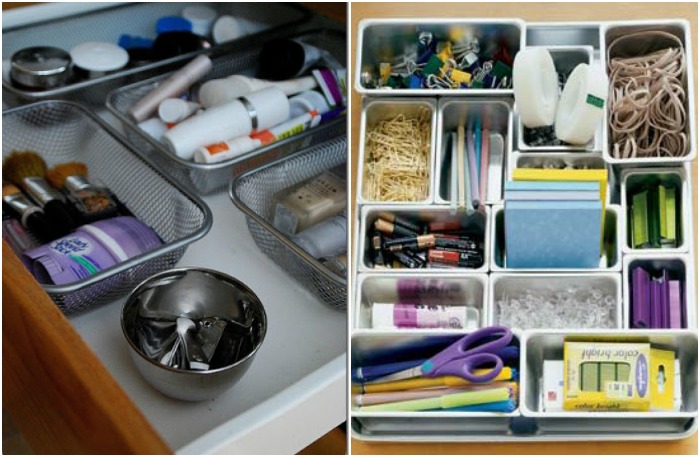 61. Organized Make-up Drawer
62. Small Item Storage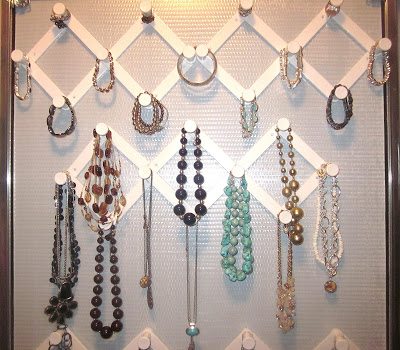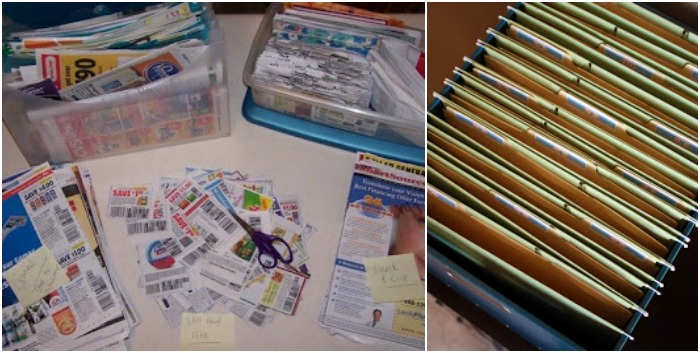 64. Coupon Organization
65. School Paperwork Storage

66. Organize Your Tool Box
67. Separate Your Jewelry
68. Organize Office Supplies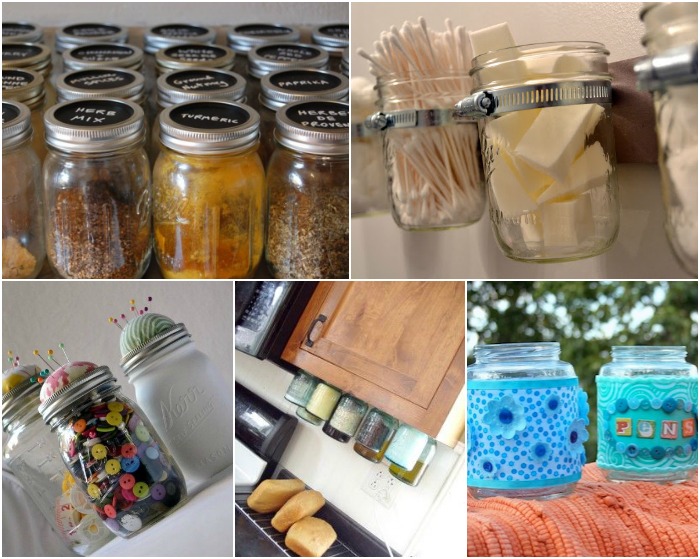 69. Bulk Spice Storage
70. Bathroom Organizer
71. Organize Your Craft Supplies
72. Under-Shelf Storage
73. Pretty Mod Podged Jars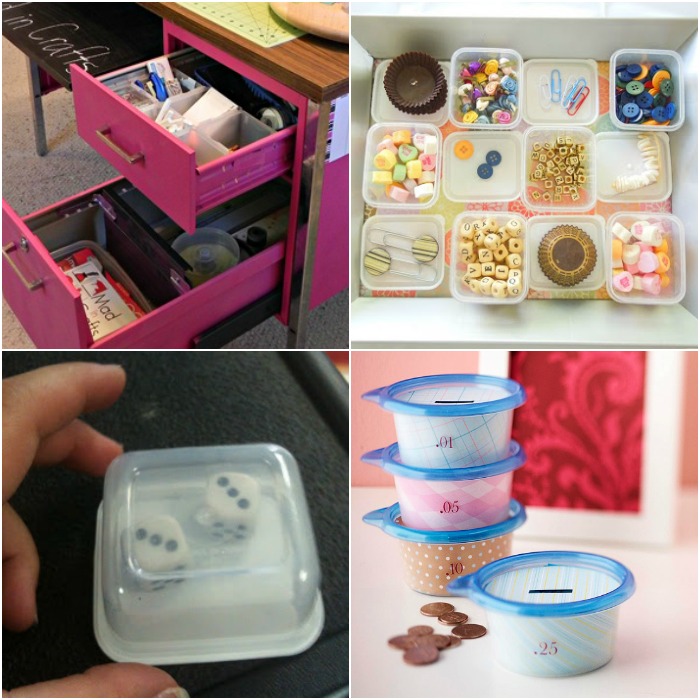 74. Desk Drawer Organization
75. Craft Organization
76. Stop Losing Board Game Dice
77. Spare Change Organizers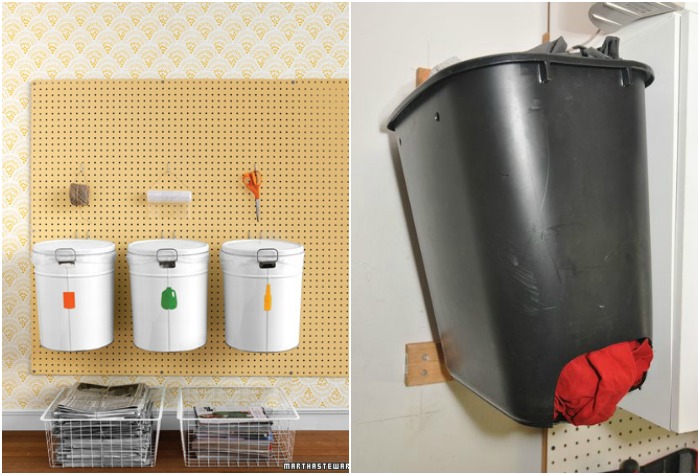 78. Recycling Organization
79. Rag Dispenser
80. Measuring Cup and Spoon Organization
81. Key and Sunglasses Storage
83. Scarf Organization
84. Corral Hair Ties
85. Hanging Purse Storage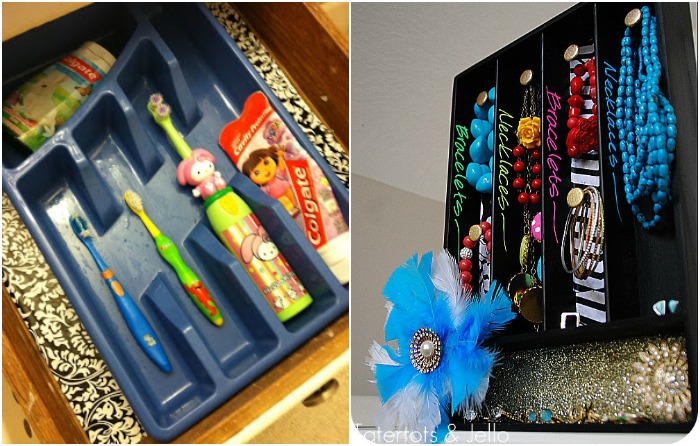 86. Toothbrush Organization
87. Jewelry Organizers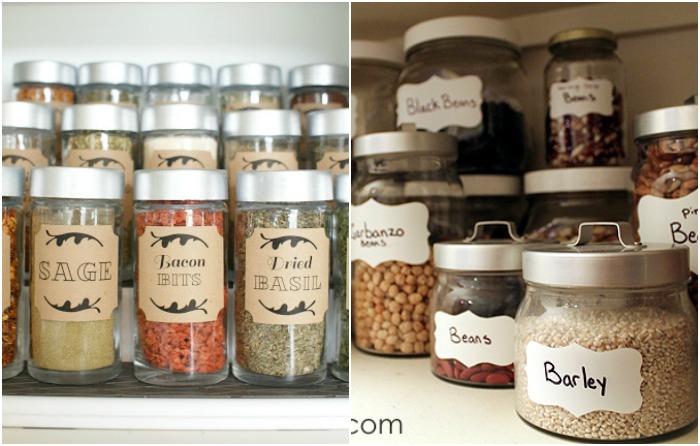 88. Organized Spice Cupboard
89. Pantry Organization with printable template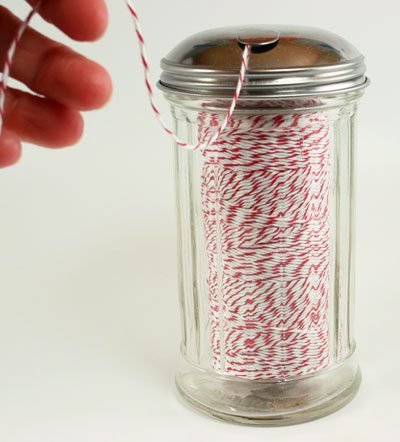 91. Hair Accessory Storage
92. Battery Organization
93. Organize Small Electronic Accessories

94. Electronics and Cord Organization
95. Christmas Ornament Storage
96. Craft Paint Organization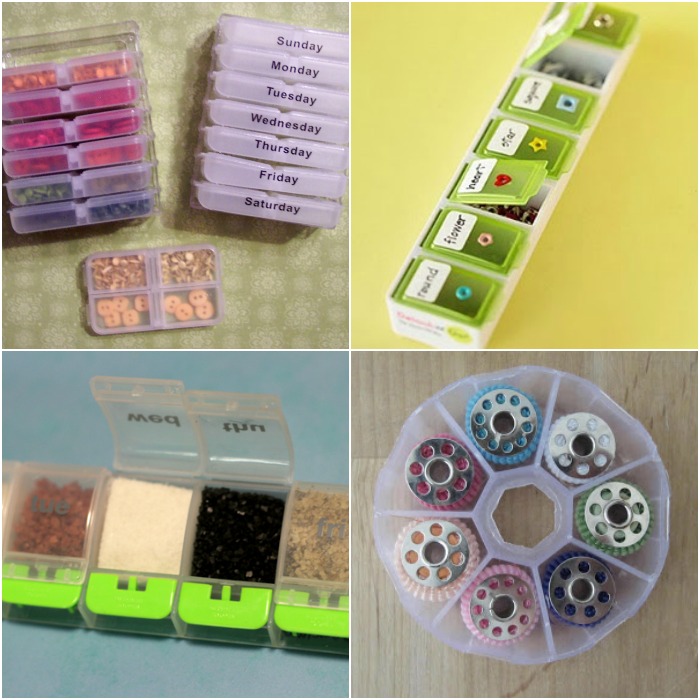 97. Button Storage
98. Small Craft Supply Storage
99. Portable Spice Kit
100. Bobbin Storage

FOR MORE GREAT ORGANIZATION AND STORAGE IDEAS, CHECK OUT THESE LINKS!
---

HERE ARE THOSE SAME 100 TRICKS ORGANIZED BY ROOM:
BATHROOM
Keep Each Family Member's Toiletries Organized
Organize Your Whole Bathroom
In-Shower Storage
Hanging Baskets
Hanging Baskets as Bathroom Shelves
Make-Up and Jewelry Organization
Medicine Cabinet Organization
Nail Polish Storage
Organized Make-up Drawer
Jewelry Organizer
Separate Your Jewelry
Bathroom Organizer
Corral Hair Ties
Toothbrush Organization
Jewelry Organizers
Hair Accessory Storage

KITCHEN
Simple Freezer Organization
Portable Spice Kit
Cooking Magazine Binder
Organized Cleaning Supplies
Daily Menu Board
Under-Sink Drying Rack
Hidden Kitchen Storage
Under the Sink Organization
Pretty Pantry Organization
Categorize Your Cookie Cutters
Bulk Spice Storage
Measuring Cup and Spoon Organization
Organized Spice Cupboard
Pantry Organization with printable template

OFFICE
Organizational Wall Grids
Home Command Center Binders with printables
Weekly Calendar
Coupon Organization
Organize Office Supplies
Desk Drawer Organization
Battery Organization
Organize Small Electronic Accessories
Electronics and Cord Organization
Pretty Mod Podged Jars
Small Item Storage


CHILDREN'S ROOMS
Kids Artwork Organization
School Paperwork Storage
Whimsical Diaper Storage
Organized Kids' Art Closet
Puzzle Organization
Bath Toy Storage
Grab and Go Play Date Bag
Simple Toy Storage
Beach Toy Storage
Stop Losing Board Game Dice
Organized Puzzle Storage
Store Operation Manuals
LIVING ROOM
Hide Your Power Strips
Under-Shelf Storage

CLOSET
Labeled Closet Storage
Shelf Drawers Made from Cardboard Boxes
Extra Closet Shelves
Cardboard Boxes (Donate, Deliver, Library, and Gifts)
Pretty Storage Bins
Keep Tights Organized
Plastic Bin Bookshelf
Organized Winter Gear
Bins Turned Storage Shelves
Scarf Organization
Hanging Purse Storage
Extra Closet Storage
Outgrown, Kids' Clothes Storage
Off-Season Clothes Storage

CRAFTS
Organize Your Scrapbook Supplies
Bobbin Storage
Button Storage
Easy Ribbon Dispenser
Gift Wrap Storage
Thread Organization
Gift Wrap Organization
Craft Paint Organization
Scrap Ribbon Storage
Tidy Bakers Twine Organization
Organize Craft Supplies
Organize Future Craft Projects
Yarn Organization
Organize Your Craft Supplies
Small Craft Organization
Baker's Twine Dispenser
Gift Wrap Organizer

LAUNDRY ROOM
Laundry Room Organization
Laundry Room Organization with printables

MISCELLANEOUS
Moving Day Organization
Organized Video Games, Handheld Systems, and Chargers
Off-Season Clothing Storage
Outgrown Kids Clothes Storage
Multiple Storage Ideas
Car Organization 1
Car Organization 2
Organize Your Tool Box
Spare Change Organizers
Recycling Organization
Christmas Ornament Storage
Rag Dispenser
Key and Sunglasses Storage