There are any number of excuses I can make for why I haven't taken the time to organize our house: not enough time to do it all, don't know where to start, organizational supplies are too expensive, etc. It's easy to get discouraged and quit before I am even started. But the truth is, the supplies to get an entire house in order don't have to cost a small fortune. Most of them can be found right at the local
dollar store
.
To prove this to myself, and to you, I took a trip to my local
Dollar Tree
. ONE trip, no going back for forgotten items or things they didn't have in stock. I brought along my iPod and took photos of all the supplies they carry that can be used to get a house in order.
The uses for some of the supplies are obvious; you use the drawer organizers to organize drawers and the laundry bags to hold dirty (or clean) laundry. But you can use items found at the
Dollar Store
for many organizational purposes. How many, you ask? Well, how about one hundred?
I have compiled
100 ways
you can organize your whole house using items from the
dollar store
. One trip, 100 solutions. Let's do this!
EDIT: Some of you have told me you either don't have a Dollar Tree near you or can't find these specific items, so I am including some Amazon links to similar products in each section. These are all affiliate links, if you make a purchase (of anything on Amazon, not just these items) after clicking through, I will earn a small commission. Ads and affiliate links are the way I am able to keep this website running and to offer you free tutorials all year long. Thank you so much for supporting me and Mad in Crafts!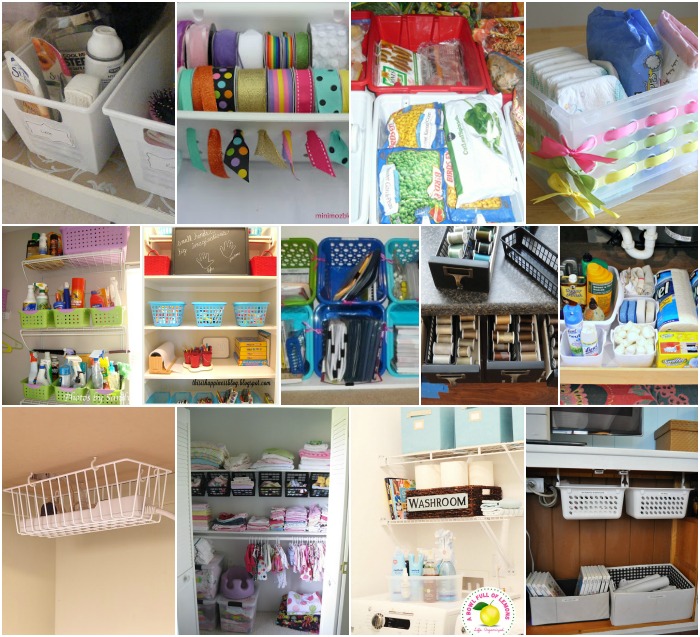 1. Keep Each Family Member's Toiletries Organized
2. Easy Ribbon Dispenser
3. Simple Freezer Organization
4. Pretty Storage Bins
5. Organized Cleaning Supplies
6. Organized Kids' Art Closet
7. Plastic Bin Bookshelf
8. Thread Organization
9. Under-Sink Drying Rack
10. Hide Your Power Strips
11. Extra Closet Shelves
12. Laundry Room Organization
13. Bins Turned Storage Shelves
14. Under the Sink Organization
15. Laundry Room Organization with printables
16. Organize Your Whole Bathroom
17. Labeled Closet Storage
18. In-Shower Storage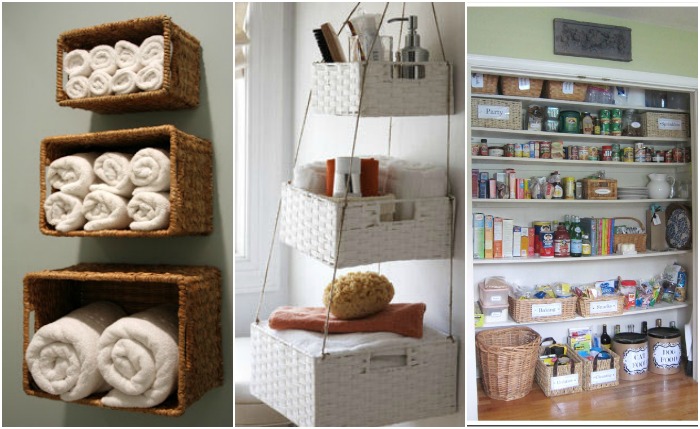 19. Hanging Baskets as Bathroom Shelves
20. Hanging Baskets
21. Pretty Pantry Organization
UP NEXT: 3-RING BINDERS, CARDBOARD BOXES, CLOTHESPINS, COLLAPSIBLE BINS, SUIT STORAGE BAGS & SWEATER STORAGE BAGS

Let's be buds.
Subscribe to the Mad in Crafts newsletter and get a FREE copy of my newest ebook, Happy Crafts: Nine Colorful Crafts You Can Make in 30 Minutes or Less.
Have you checked out the Mad in Crafts YouTube channel yet?