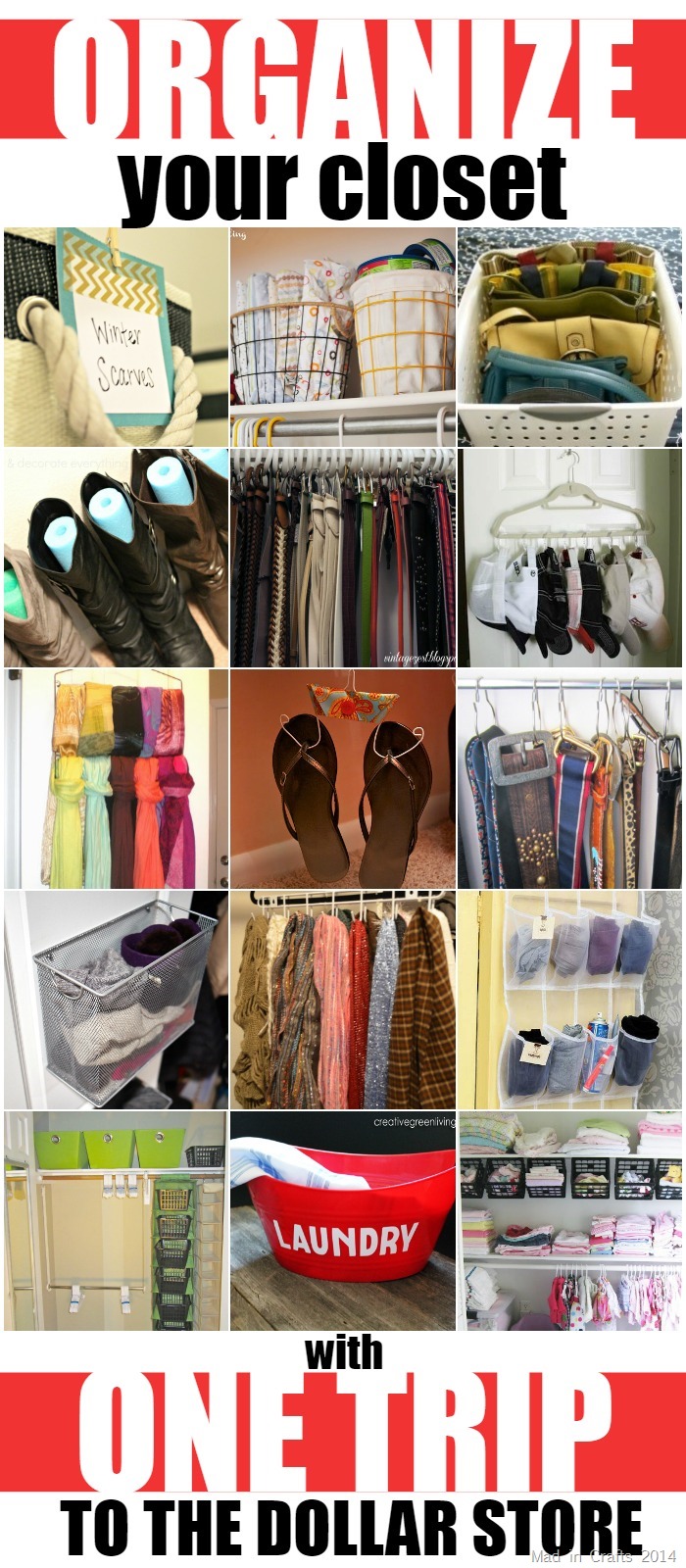 For this last installation of dollar store organization tips, we are tackling your crazy closets. In my house, the goal is just to get the closet doors to close. These tricks using dollar store supplies will help to organize that mess without messing up your budget.
HANGING CLOSET BAR – HAPPY, HEALTHY & DOMESTIC
FABRIC COVERED STORAGE BOXES – MISS REPURPOSE
MOUNTED STORAGE BINS – SAWDUST & EMBRYOS
BINS TURNED SHELVES – ORGANIZING MADE FUN
MINI LAUNDRY BASKET – CREATIVE GREEN LIVING
BELT STORAGE – LIVE SIMPLY BY ANNIE
SCARF OR BELT HANGER – DOLLAR STORE CRAFTS
KIDS CLOSET BINS AND BASKETS – DELINEATE YOUR DWELLING
BASKETS AS HANGING DRAWERS – CASA CULLEN
POOL NOODLE BOOT FORMS – ORGANIZE AND DECORATE EVERYTHING
SMALL PURSE STORAGE – ORGANIZING MADE FUN
SHARPIE STORAGE LABELS – 702 PARK
HANGING BINS FOR GLOVES & HATS – THE BALONEY BUG
HANGING SHOE ORGANIZER FOR GLOVES & UMBRELLAS – YAHOO
REALISTIC COAT CLOSET ORGANIZATION – SIMPLY IN CONTROL
Let's be buds.
Subscribe to the Mad in Crafts newsletter and get a FREE copy of my newest ebook, Happy Crafts: Nine Colorful Crafts You Can Make in 30 Minutes or Less.
Have you checked out the Mad in Crafts YouTube channel yet?