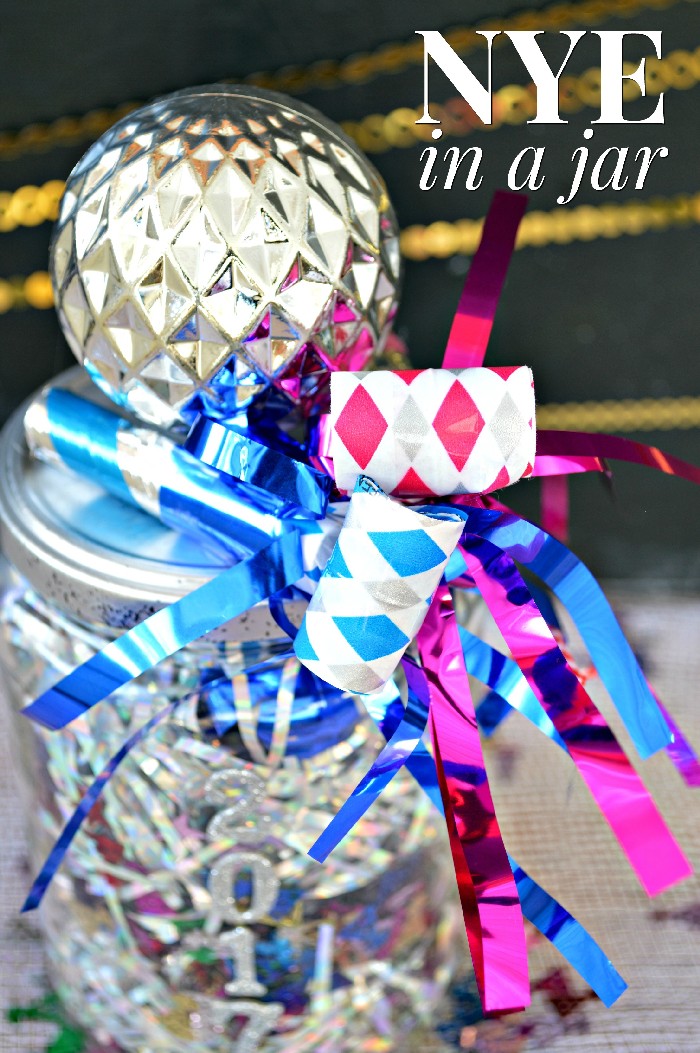 People spend most of December prepping for Christmas, but Christmas isn't the only fun holiday this month. New Year's Eve is an excuse to break out the glitter and glam as you ring in the new year. This unique New Year's mason jar gift is inexpensive and fun to put together.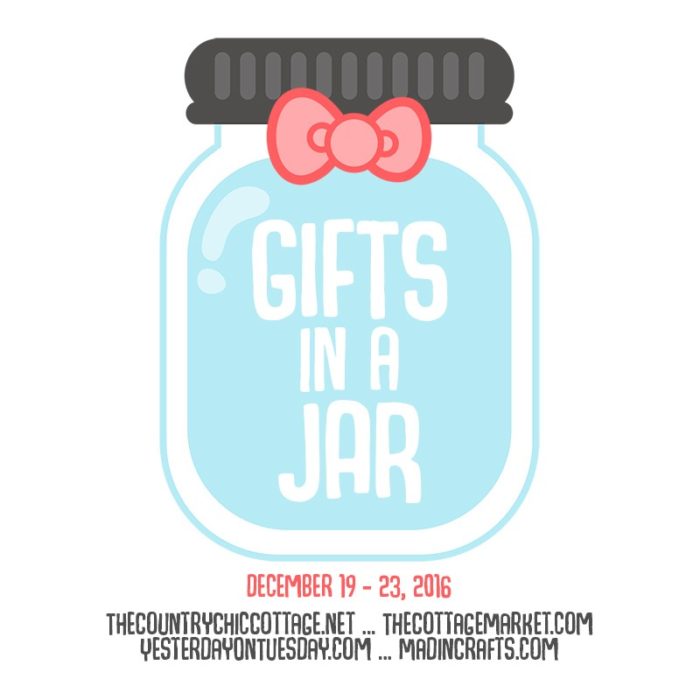 This is the last day of Gift in a Jar week. I will try to make a round up of all of this week's fun projects tomorrow in case you missed anything!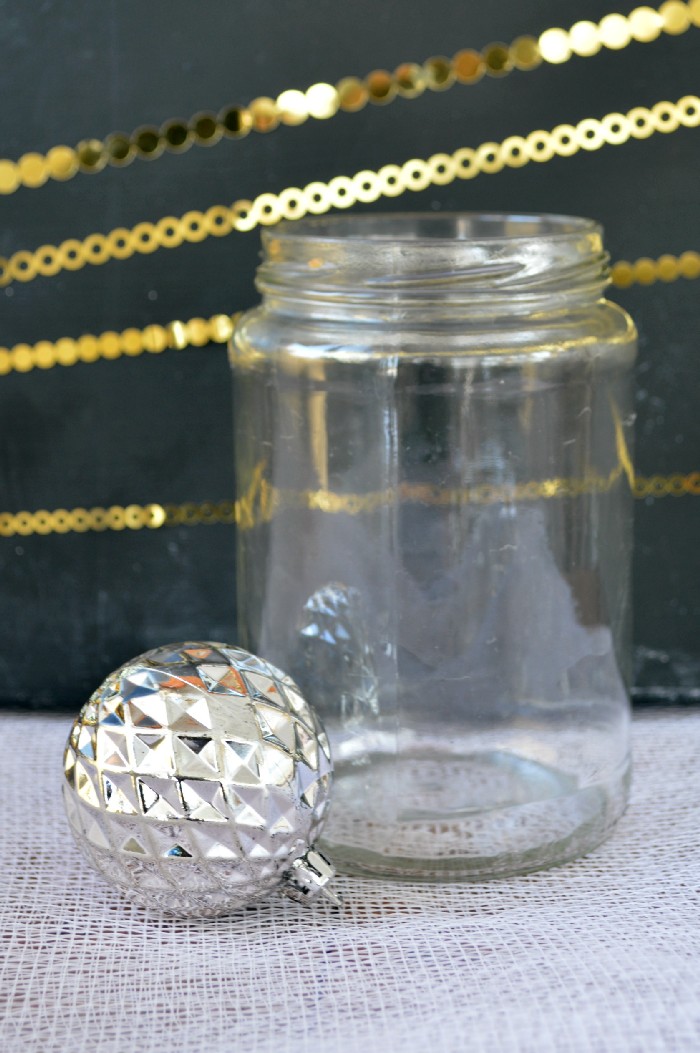 I found a set of 5 silver ornaments at Dollar Tree, and at least two of the five make pretty good miniature versions of the ball that drops in NYC on New Year's Eve.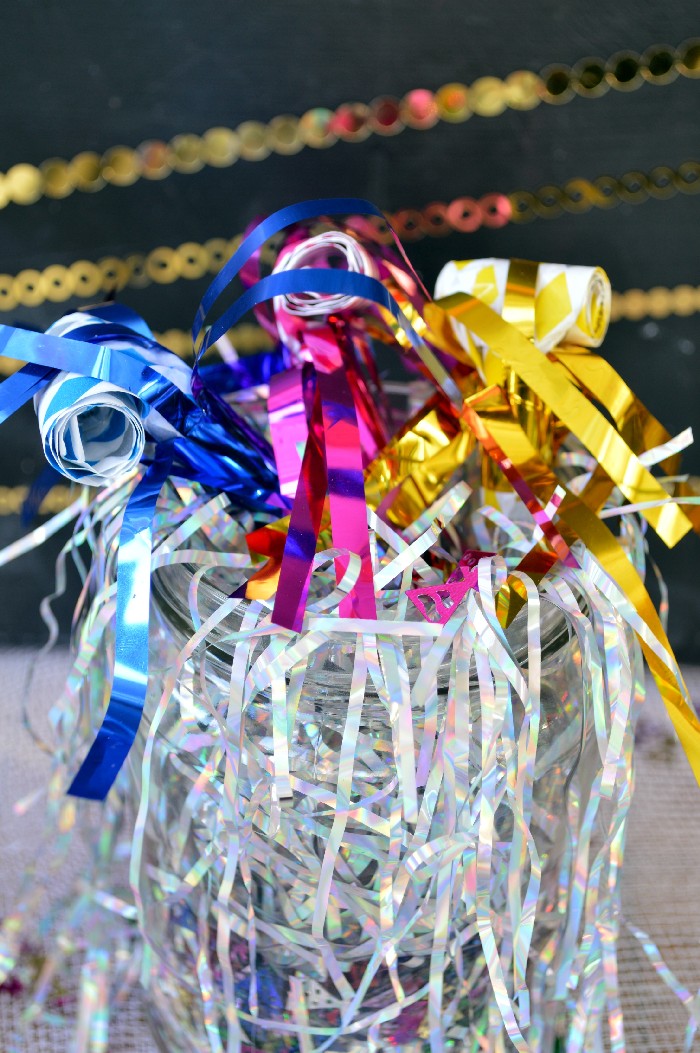 While I was still at the dollar store, I picked up some NYE party supplies. I bought holographic tinsel shreds, party confetti, and party horns. If you visit the store closer to New Year's you will probably also find glasses, hats, confetti poppers, and more. Just make sure that the jar you use for the gift is large enough to hold all your party supplies.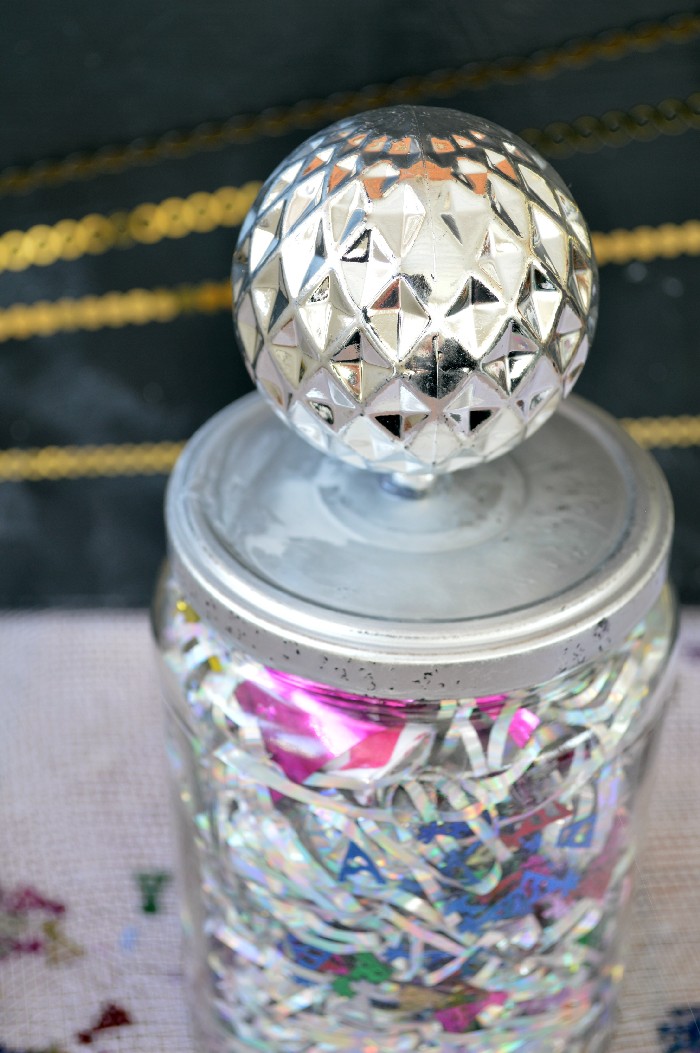 After I had filled my jar with goodies, I removed the hanging cap from my ornament and hot glued it to the middle of the jar lid.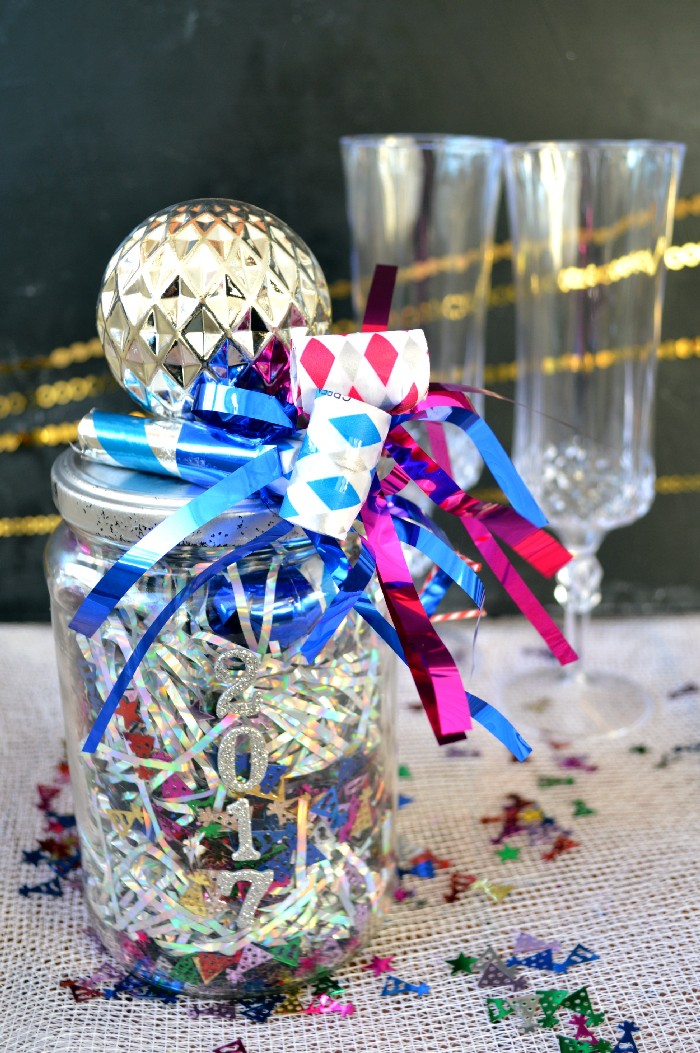 Next, cut two more party horns down a bit and glue them to the lid as well, just to add a little color and movement to the jar lid.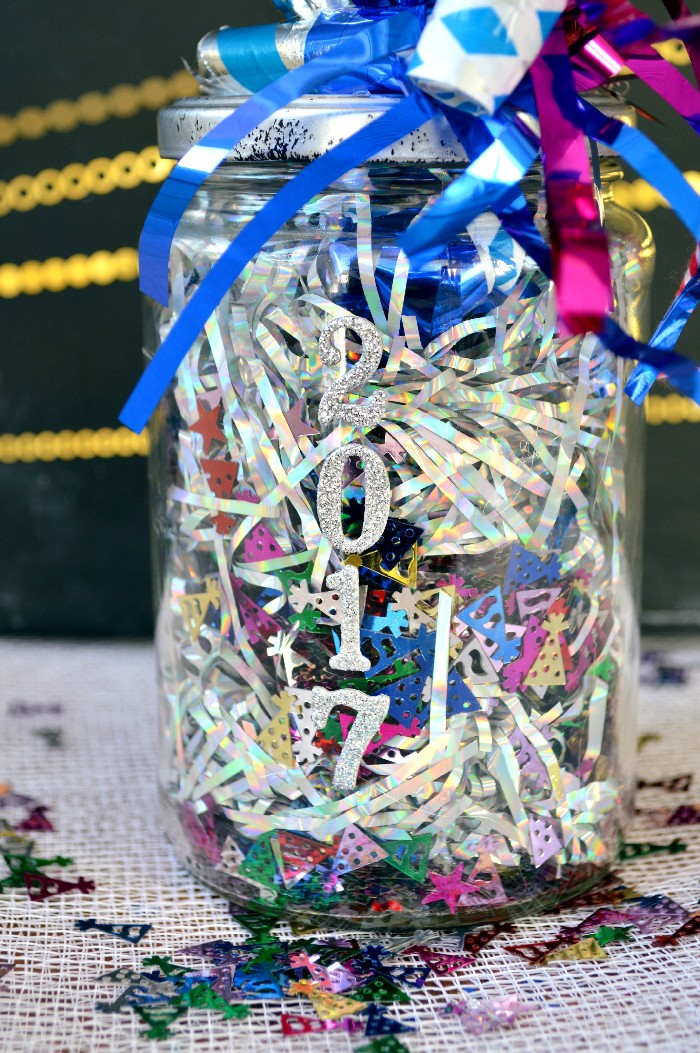 Finally, I added 2017 to the side of the jar with glittery stickers, but, honestly, with everything going on inside the jar, you can hardly see them!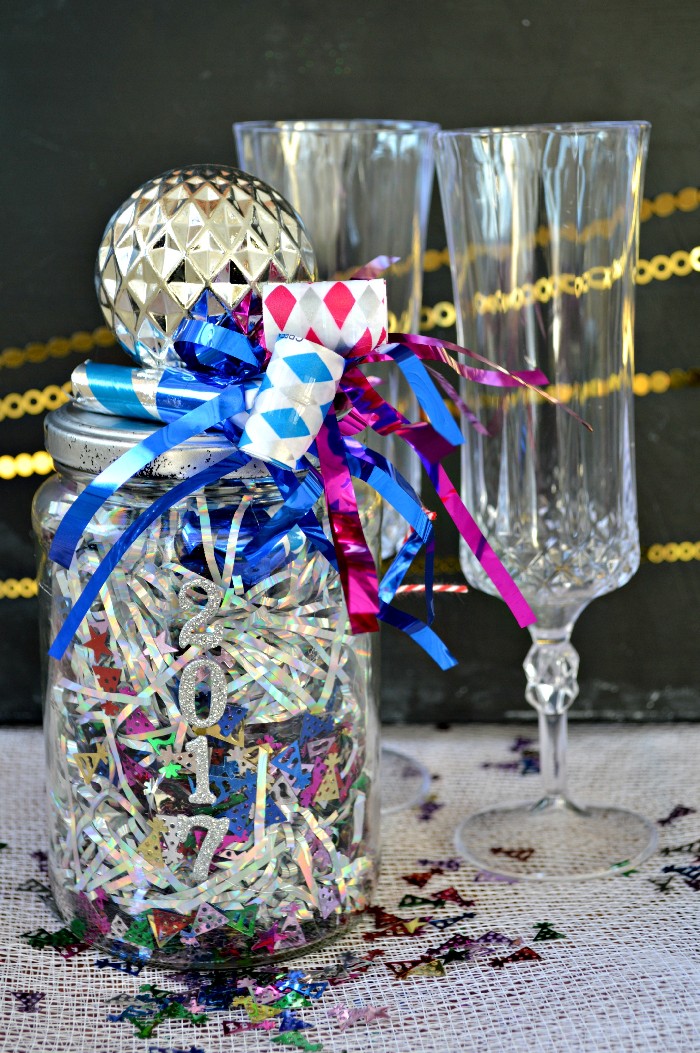 Pair the jar up with some champagne glasses and a split of champagne for an adorable all-inclusive NYE gift!
Where will you be spending New Year's Eve this year? Let me know in the comments!
Don't forget to check out my friends' final gift in a jar tutorials today:
Hot Dog Lover Gift – The Country Chic Cottage
DIY Dog Balm – The Cottage Market
Holiday Baking Kit in a Jar – Yesterday on Tuesday
You might like these DIYs: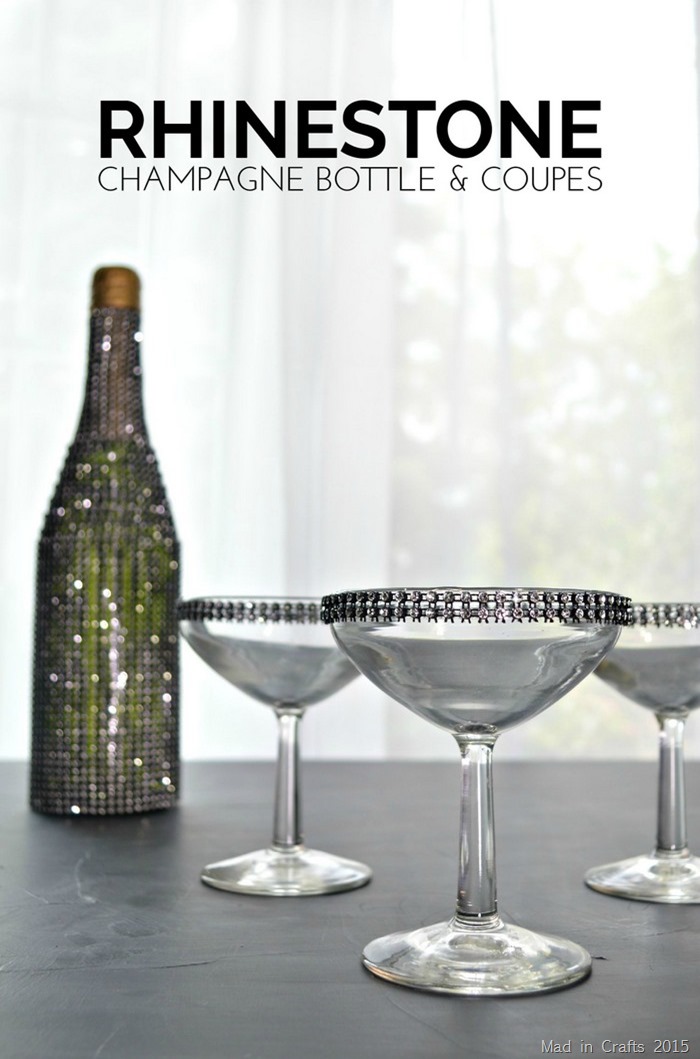 RHINESTONE COVERED CHAMPAGNE BOTTLE
Let's be buds.
Subscribe to the Mad in Crafts newsletter and get a FREE copy of my newest ebook, Happy Crafts: Nine Colorful Crafts You Can Make in 30 Minutes or Less.
Have you checked out the Mad in Crafts YouTube channel yet?