If you have followed this blog over the years, you have probably gathered that I am Christian, a Lutheran to be exact. I believe that Christmas is more than a time to put out sparkly ornaments and eat tasty treats — although I enjoy those parts of the holiday too. Christmas is the season of the church year when we thank God for sending His Son into this sinful world to live a perfect life and die for the sins of the whole world. Christmas is about Christ. When Christmas Tree Market gave me the chance to donate a tree to my son's parochial school, I wanted the decorations on the tree to reflect that focus. I designed ornaments and choose decorations for this tree to remind those who see it of the most important message of Christmas: Today in the town of David a Savior has been born to you; he is Christ the Lord. – Luke 2:11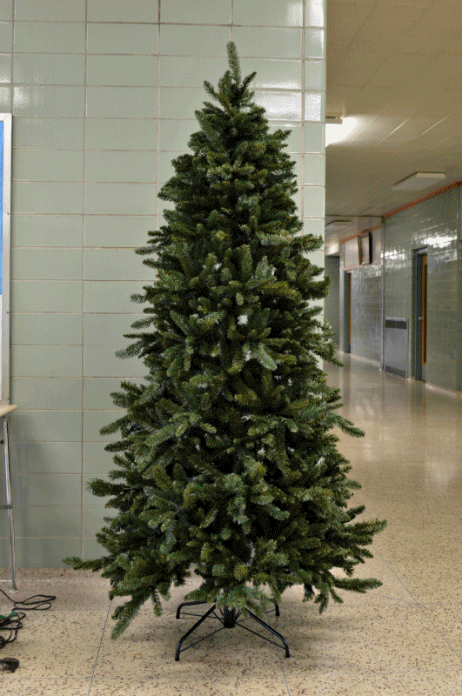 I had never decorated a themed tree before so I reached out to some of my blogger friends who I consider experts in this area. Colleen from Just Paint It! and Aunt Peaches have both decorated Christmas trees professionally, for private homes and public businesses. I used their tips and suggestions for layering the decorations on this tree. Head to those blogs and enter "Christmas tree" into their search boxes to go down the rabbit hole of beautiful tree tips and tricks!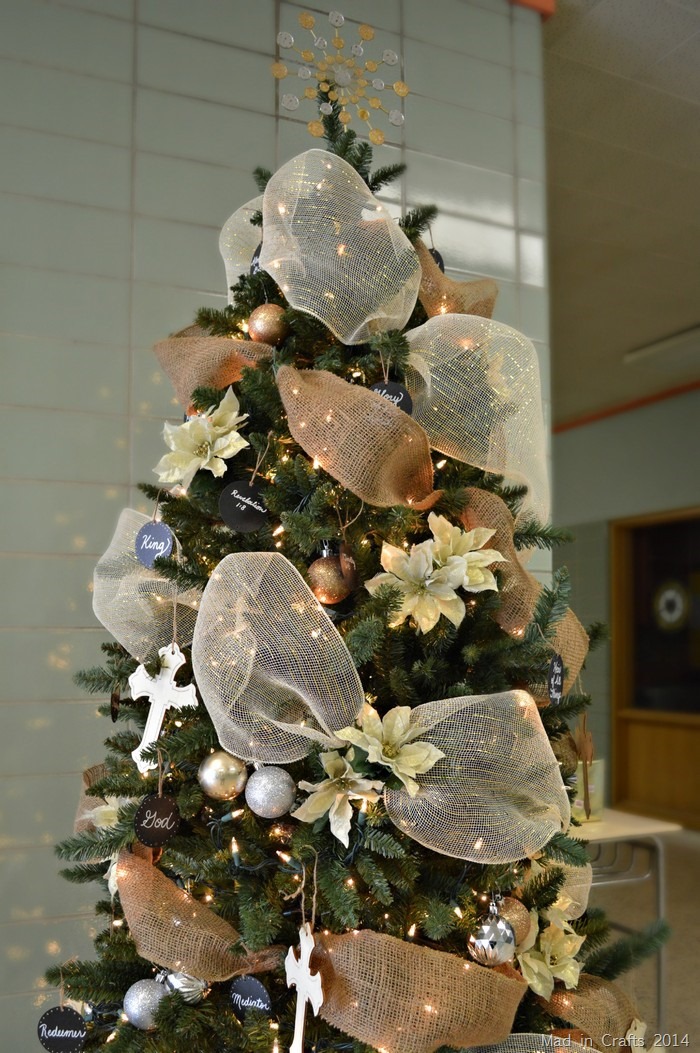 The tree was very easy to assemble because the branches are all hinged. I was also pleasantly surprised at how nice the branches of the tree look. Each branch forks out once or twice, and those forks have their own branches that can be bent and fluffed into a realistic tree shape. This was the fullest looking artificial tree I have ever set up. After the tree was set up, I strung on 600 white mini lights on the unlit tree. Next I tucked decorator mesh and burlap ribbon around the tree as garland. The white decorator mesh has pretty metallic gold threads running though it. The rough, course burlap serves as a contrast against the lighter mesh.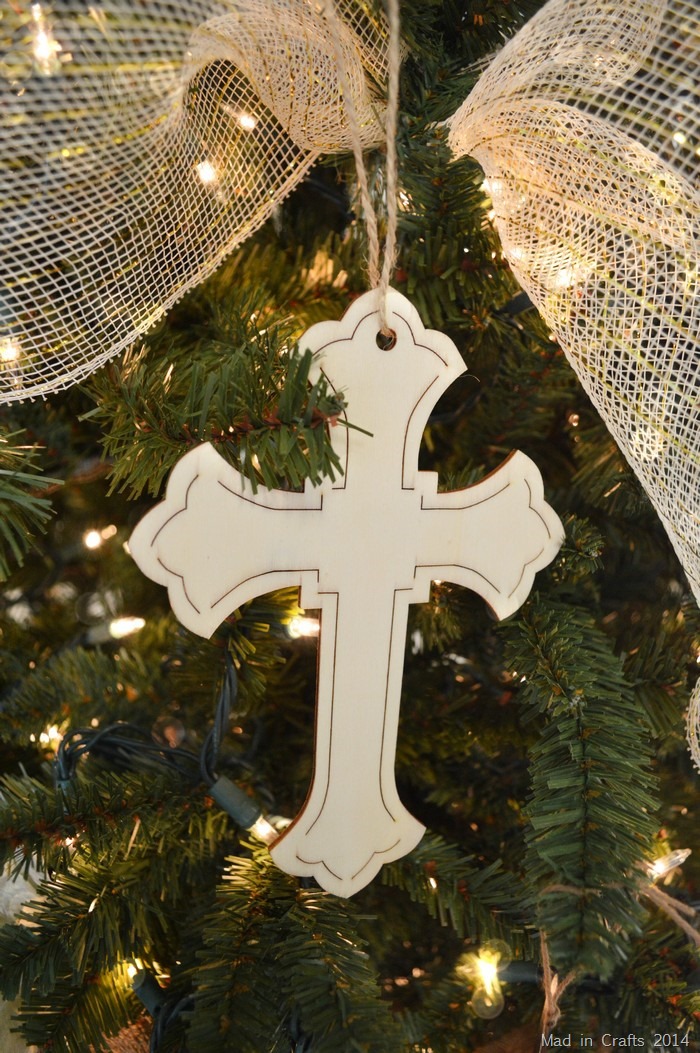 The largest ornaments are these laser cut wood crosses (affiliate) which I spaced around the tree.
I used chalk markers to write forty names of Christ on circle chalkboard tags. On the flip side of each ornament, I added the Bible reference for each name. I looped lengths of baker's twine through each tag so I could hang them on the tree.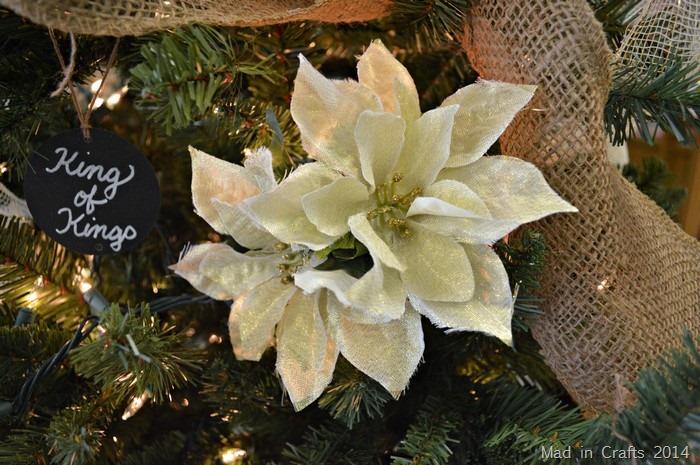 I tucked silk poinsettias in to the branches of the tree to add contrast. Since it's more economical to buy faux flowers in larger bunches, I just clipped the individual flowers off the bunch before adding them to the tree.
I filled in any bare spots with shatterproof ornaments in gold and silver tones. I hung some ornaments singly, and others I wired together in bunches of two or three.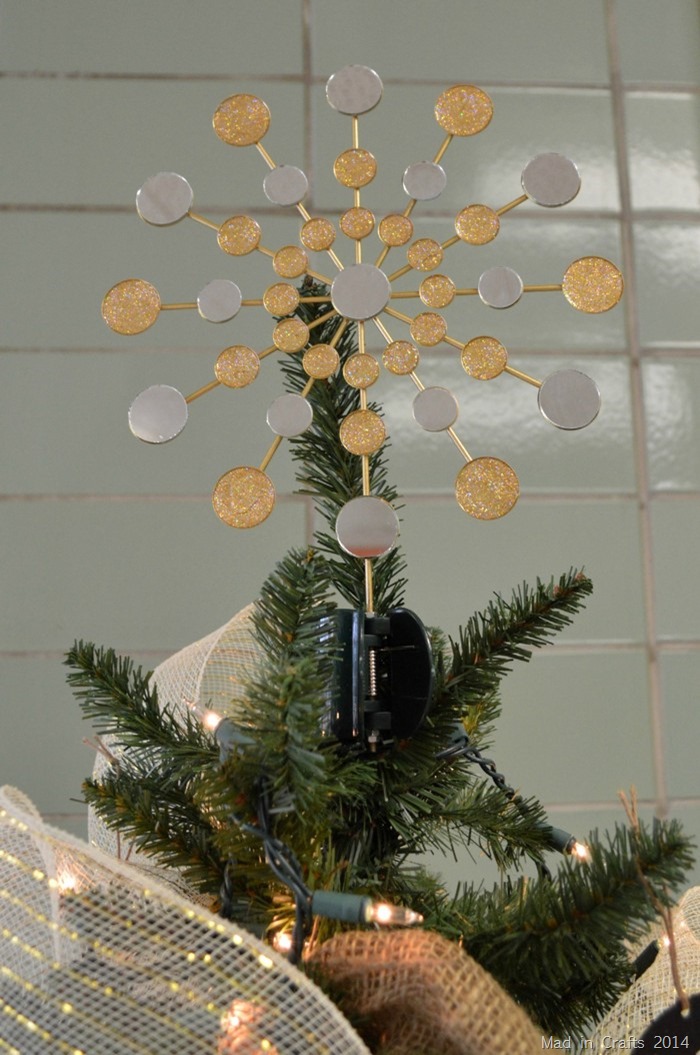 When I found this topper at Goodwill, it was a brassy gold color and the circles on the sunburst were embellished with gaudy plastic gems – some of which were missing. I pried all the gems off and gave the whole thing a coat of Plutonium's metallic gold spray paint. I super glued 1" and 1/2" mirror discs onto some of the sunburst circles. I filled in the rest of the circles with gold glitter Dimensional Magic.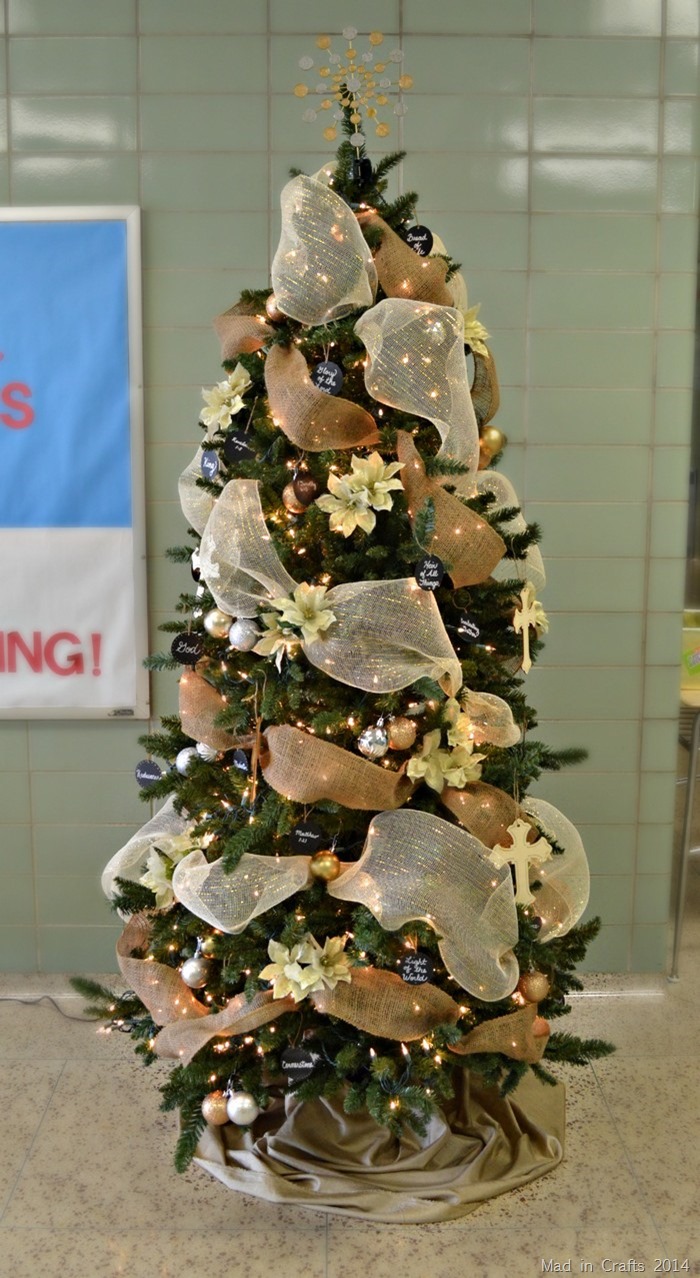 Lastly, I wrapped two yards of silky champagne fabric around the base of the tree as a tree skirt. I am pretty pleased with the way the tree turned out, and I hope it serves as a reminder to those who pass by of the real reason for Christmas! Below are the materials I used to decorate this tree. These are all affiliate links.
Let's be buds.
Subscribe to the Mad in Crafts newsletter and get a FREE copy of my newest ebook, Six Projects You Can Make with Thrifted Plaid Shirts.
Have you checked out the Mad in Crafts YouTube channel yet?