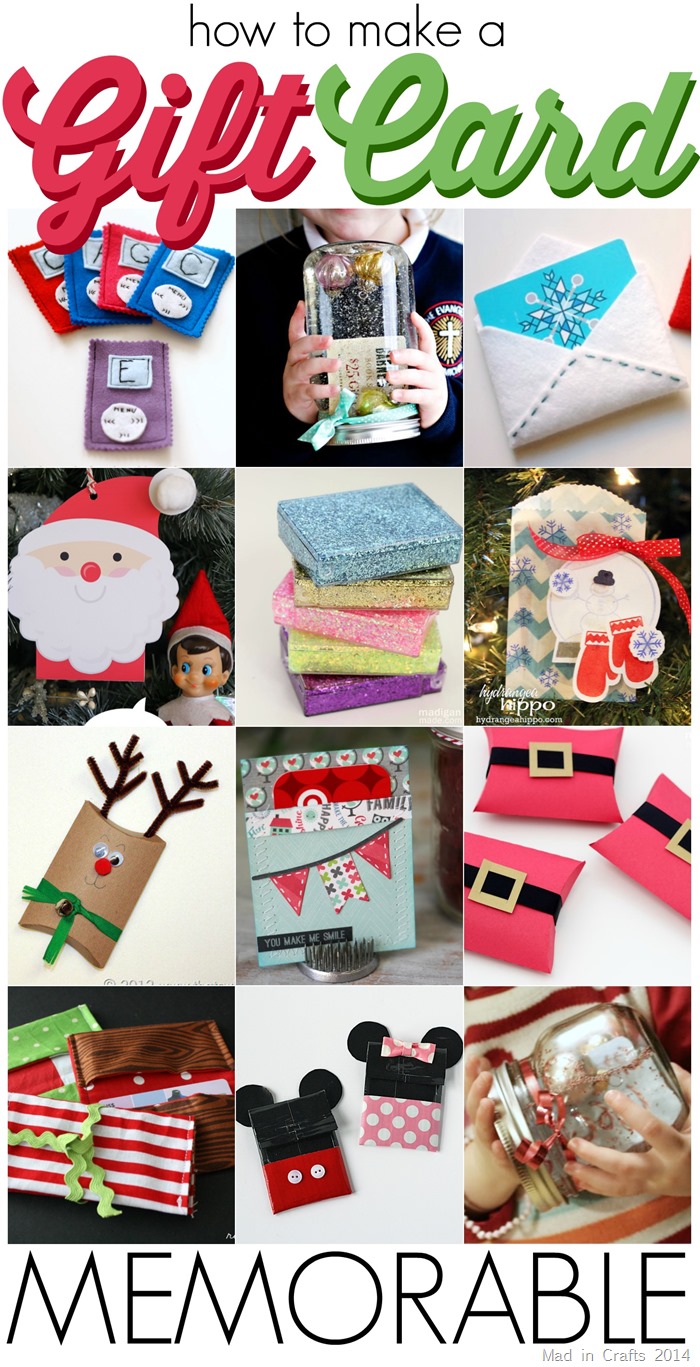 Gift cards are awesome gifts, but they look so uninteresting under the tree. I have put together a round-up of memorable gift card packaging ideas that are guaranteed to make your gift card stand out.
BABY FOOD JAR SNOW GLOBE HOLDER – ALL THINGS G&D
BLOOMING FLOWER POT HOLDER – MADIGAN MADE
DIORAMA ORNAMENT CARD HOLDER – HYDRANGEA HIPPO
DUCK FABRIC TAPE POUCH – THE COUNTRY CHIC COTTAGE
FABRIC SCRAP CARD HOLDERS – SEE VANESSA CRAFT
FELT ENVELOPE HOLDER – PAPER & STITCH
FELT IPOD SLEEVES – BLUEBIRD & THE BOY
FLOWER POT CARD HOLDER – THE COUNTRY CHIC COTTAGE
FROZEN YOGURT BOWL CARD HOLDER – CREATIVE CAPITAL B
GLITTERED CASSETTE CASE – MADIGAN MADE
JUTE WEBBING GIFT CARD POCKET – WHERE MY HEART RESIDES
KNIT GIFT CARD-GANS – SIMPLY NOTABLE
LACED STOCKING CARD HOLDER – DOLLAR STORE CRAFTS
MASON JAR SNOW GLOBE HOLDER – THE CREATIVE MAMA
MICKEY AND MINNIE DUCK TAPE HOLDERS – CRAFTS BY AMANDA
MOD PODGED CASSETTE CASE – MOD PODGE ROCKS!
PAPER PURSE CARD HOLDER – SIMPLY KELLY DESIGNS
PAPER TOOLBOX CARD HOLDER – DIY INSPIRED
PRINTABLE COLORING PAGE CARD ENVELOPES – DO ALL THINGS WITH LOVE
PRINTABLE SANTA CARD HOLDER – AMY LOCURTO
REINDEER CARD HOLDERS – THAT'S WHAT CHE SAID
SANTA'S BELT PILLOW BOX – MADIGAN MADE
SPRAY PAINTED MINT TIN – KRYLON
STAMPED CARD BAGGIE – HYDRANGEA HIPPO
STARBUCKS TO-GO CUP CARD HOLDER – MAD IN CRAFTS
STITCHED CARD SLEEVE – RIBBONS AND GLUE
UPCYCLED CEREAL BOX CARD HOLDER – MOD PODGE ROCKS!
Let's be buds.
Subscribe to the Mad in Crafts newsletter and get a FREE copy of my newest ebook, Happy Crafts: Nine Colorful Crafts You Can Make in 30 Minutes or Less.
Have you checked out the Mad in Crafts YouTube channel yet?