Here's a little insider teaching information that you probably didn't know. Classrooms stink. Seriously. No matter how clean and fresh your precious child is when you drop him off at school, by the end of the day he will have a definite funk. Whether it's from warm weather, running around at recess, or those lovely emerging hormones, classrooms become stale and stanky as the day goes on. As a teacher, it is hard to combat the unavoidable smell. Candles are a fire hazard, and aerosol sprays are only a temporary fix.
This quick natural classroom air freshener will help freshen up their classroom, safely and inexpensively. The baking soda will actually absorb some of the offending smells, while the essential oils will add some fresh scents to the air.
NATURAL CLASSROOM AIR FRESHENER
How to Make a Natural Air Freshener
Making a natural air freshener couldn't be simpler. Pour 1/2 cup of baking soda into a mason jar and add 5 drops of essential oil. I used eucalyptus, but peppermint, lavender, and lemon are also popular choices. Give the mixture a stir to distribute the oil through the baking soda. Place the fabric over the top of the jar and screw the lid ring over it to lock it in place.
Give the jar air freshener with a new bottle of oil and box of baking soda, with a note explaining how to make the mixture. The air freshener will last 2-3 weeks before needing to be switched out for a new mix.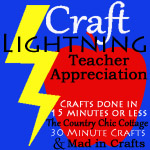 Now take a look at the other great, and quick, teacher appreciation crafts shared on the third day of Craft Lightning. Check out days One and Two for more great projects!

On Frenchie, you will find these adorable chocolates masquerading as trendy pineapples.
This periodic table themed clipboard from Hey, Let's Make Stuff is so clever!
Make a useful sticky note holder with Creative Cynchronicity.
Carla Schauer Designs is sharing printable teacher appreciation gift wrap that can be used on boxes or for gift cards.
On Busy Mom's Helper you will find the tutorial for making a cute classroom Emergency gift basket!
Cute as a Fox made a sweet ice creamed themed gift basket anchored by a free printable card.
Create a larger scale thank you with this fun project on She's Kind of Crafty.
Laura's Crafty Life has designed some free printable mason jar tags you can add your gift!
On the Country Chic Cottage, Angie shared how to quickly make apple-icious teacher gifts.
30 Minute Crafts is sharing a super thoughtful way to package up multiple gift cards.