When I was a new mom, I would have done just about anything for more sleep. If you would have told me that in just a few years I would willingly be staying up far later than my children ON PURPOSE, I might have laughed in your face. And yet, as a mom of grade school-aged kids, that is exactly what I do, and I don't think I am the only one. We moms treasure that time after everyone else in the house has gone to sleep because it is the time when we can watch Game of Thrones and eat the secret snacks we've squirreled away. Support a night owl mom this Mother's Day with an "Up Too Late" vinyl mug gift to help her caffeinate after a late night.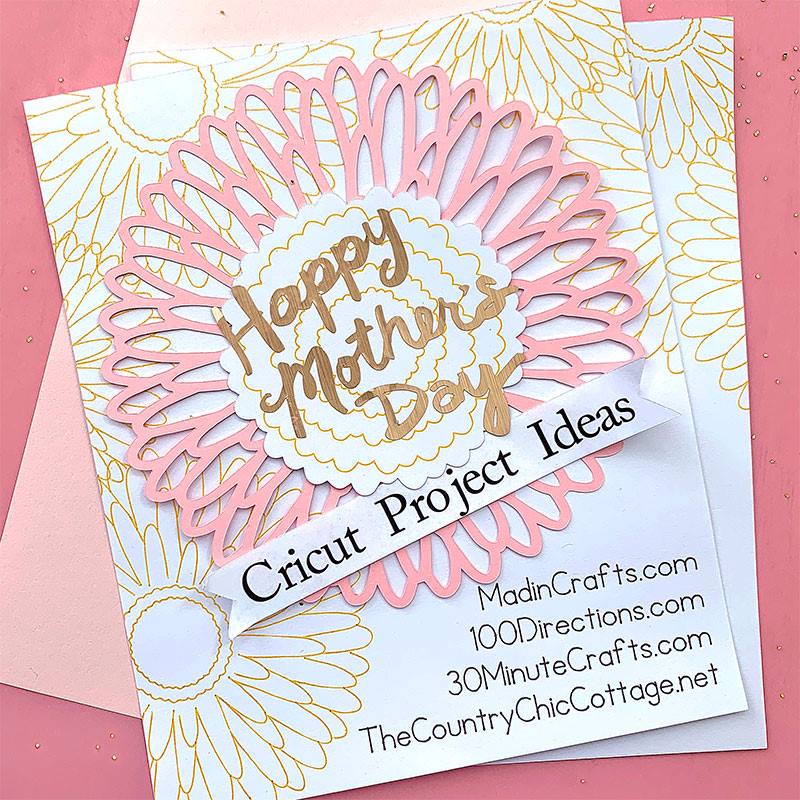 I am sharing this project as part of a week of Cricut Mother's Day crafts. I will link to all the other creative crafts at the end of this, so be sure to check them all out.
"UP TOO LATE" VINYL MUG GIFT
Supplies You Will Need
I had initially wanted to use this Cricut design for this project because it is adorable — and oh-so-true. Unfortunately, my mug was a bit too small for the design to read properly. If you use a larger mug, I highly recommend it.
I cut my design out of outdoor black vinyl and positioned it onto my tin mug with transfer tape. I found this mug at Walmart, but you can place this design on a regular mug, a tall mug, a travel mug… you decide!
These are all affiliate links, if you make a purchase (of anything from these retailers, not just these items) after clicking through, I will earn a small commission. Ads and affiliate links are the way I am able to keep this website running and to offer you free tutorials all year long. Thank you so much for supporting me and Mad in Crafts!
DOWNLOAD THE FREE SVG FILE
Sign up for my SVG Club below for these free SVG files! As a member of the club, you will receive one new SVG file each month. These SVG files are ready to upload directly into your favorite cutting machine's design software. Insert the file into a new project, then resize it to fit the project you will be making. This file is for personal use only, so please don't sell anything you make with this design.
How Do You Position the Vinyl on the Mug?
I was moving too fast making this project (always the impatient crafter), and so I didn't use the guidelines on my transfer tape to their full advantage. If you line the design up with the lines on the tape, you don't have to eyeball the position of the design on the mug. Be smarter than I am and use the lines.
Once the vinyl has been transferred to the mug, you have a choice. If you use outdoor vinyl, you can technically be done right here. The outdoor vinyl is waterproof, but not dishwasher safe. I prefer not giving gifts that cause extra work for the giftee, so I recommend top coating the vinyl with dishwasher-safe Mod Podge. That will make the mug top rack dishwasher-safe. Just be sure not to apply the Mod Podge along the rim of the mug or inside the mug, as the Mod Podge isn't graded as food-safe.
How Can You Gift the Mother's Day Mug?
While you can absolutely give the mug on its own, why not package it up with a few late night snacks. I am partial to microwave popcorn and chocolate, but you can tailor the gift to match your recipient's tastes.
Be sure to take a look at these other Cricut Mother's Day ideas!