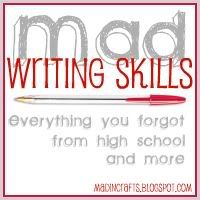 Blogs are a unique medium for writing. Located somewhere between journalism and a personal diary, your blog needs to convey your message while keeping the reader's interest. A simple way to accomplish both these goals is to spend a little time thinking about order and structure.
START OFF ON THE RIGHT FOOT
"I always write a good first line, but I have trouble in writing the others." Moliere
No matter what kind of post you are writing, you should try to have a strong first paragraph to hook your readers' attention and set the tone for your whole post. Your first paragraph is ESPECIALLY important if you truncate (shorten) your posts on your site's home page. That first paragraph is your chance to "woo" your readers into clicking the "Read More" link.
To get the most out of that first paragraph, begin with what newspaper writers call a "lead." Somewhere in the first paragraph of your post should be a sentence letting your reader know what the post will be about. You don't necessarily need to give the who, what, where, when, why and how like a journalist would, but that initial information should be there. This will grab your reader's interest and prepare them for the rest of the post.
ORDER! ORDER IN THE COURT!
-If you are writing an anecdotal post (aka telling a story): You can generally stick to chronological order. You know how to do this already. Just make sure to pepper your story with good transitions from thought to thought.
-If you are writing a tutorial: You MUST explain your project step by step. In this kind of post, numbered lists or bullet points are even better than paragraphs with transitions.
-If you are writing to inform your readers of something (an upcoming link party, a giveaway, etc): You will be best served by using what's called inverted pyramid order. Picture an upside down triangle, with the widest part of the triangle on top. In this form of writing organization, the most important info comes first and the least important information comes last. That way, if your reader only reads the first two paragraphs before moving on, at least they have gotten the most important info.
I NEED CLOSURE!
"Great is the art of beginning, but greater is the art of ending." Longfellow
I tend to struggle with figuring out a good way to end my posts. Especially tutorials. It just doesn't feel right to have a well-written step-by-step tute and just stop. I came up with a few suggestions for wrapping up your writing.
An easy way to make a post feel polished is to "frame" it. All that means is that you have a conclusion to your post that ties back into your introduction. This technique gives you the chance to tie up any loose ends and make your post feel "whole." For example, if you start your post with a famous quote, end the post by referring back to that quote again.
Another good way to end a post is to encourage reader interaction. Ask a question meant to be answered in the comment section or challenge your readers to try out your tutorial and send you a picture of the results. You don't want to OVER –use this technique (you don't want reading your blog to feel like homework), but it can be a great way to get some comment love.
PRACTICAL WAYS TO IMPROVE ORDER AND STRUCTURE
1. Read through a paragraph and identify major ideas. If the paragraph has more than one, split it up into multiple paragraphs.
2. Follow the K.I.S.S. rule. If your reader opens up your page to see an enormous block of text looming on the screen, he is likely to just skim your post over… and that's only if you are lucky. Short sentences and brief paragraphs give the eye a break to "breathe" now and then.
3. Give each paragraph a transitional phrase. Sometimes just a simple "next" can bridge the gap from one paragraph to another.