Hi there MiC readers! I'm Shannon and I blog over at Madigan Made. I crave simple and elegant ideas for my home (and coffee and chocolate, but who's counting?). I love sharing easy craft and home decor ideas with my readers.
I want to thank Jessica for inviting me here this week. I'm a huge fan of Mad Men… the drama, the characters, the clothes, and oh, the interiors!
But I'm also fascinated by the creative process that happens at Sterling Cooper. I love watching Don and Peggy (et. al.) brainstorm. It is fun to see the whole pitch come together with the art and presentation. And every time I see some of the team's illustrated advertisements, I think a little bit about my grandmother.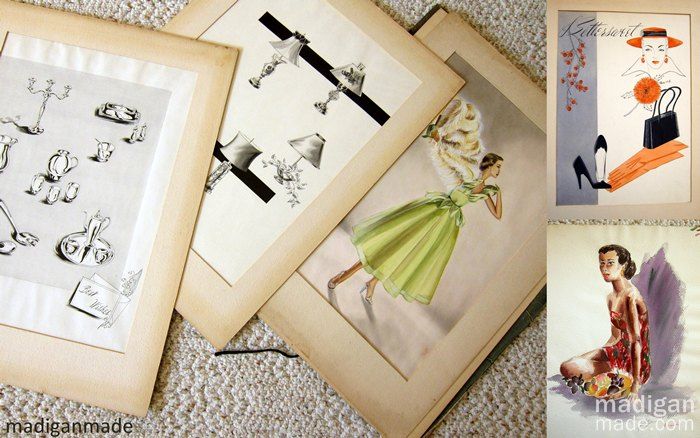 I should tell you that my late grandmother was an illustrator for department store ads in the 1950's. Our family has a bunch of drawings from her portfolio. We are splitting them up among the grandchildren and I get to keep one of these prints (mine is the sitting, tropical lady). But I also recently took some photos of the other illustrations. I hoped to print off a couple photos to display in our home. In particular, I loved the the women in orange and green clothing.
I thought that this photo project would be perfect in honor of Mad for Mad Men. Granted, these images were drawn in the 1950's and Mad Men technically started in 1960… but the styling and dress of my grandmother's work reminds me of something you'd see on the show. (Maybe a little more Betty than Joan? 😀 )
To frame the photo I first edited, cropped and printed the image on card stock. I was just going to put it in a frame, but part of me wanted to make the pictures look more custom and special. I thought, why not adhere the paper to the front of the glass? Using the glass pane would help me ensure that I had a surface that fit snugly into the frame.
To add dimension to the image, I was inspired by Beckie from Infarrantly Creative and her faux canvas print and her custom art painting tutorials. In both of those projects, Beckie took a poster or print and added a glossy texture on top to mimic the look of canvas art. I could not find the two specific clear products that Beckie used at my craft store, but I did find a thick paintable gloss that worked instead.
You could use this technique with almost anything… a family photo, a favorite quote printed on cardstock, etc. If you wanted a print that channels the look of Mad Men, I suggest checking out The Graphic Fairy. Karen has a bunch of free retro/vintage-y images that you could print off and frame.
How to Mimic the Look of a Framed Oil Canvas
Step One: Gather supplies.
Empty frame with glass
Printed image or photo
Pencil and scissors
Spray adhesive
Thick, clear coating medium (i.e. Triple Thick Gloss Glaze or a brushable decoupage)
Paint brush
Step Two: Prep the glass.
Remove the glass from the frame and clean it thoroughly. Use the glass as a template. Trace and cut the print to fit the surface.
Step Three: Adhere the print down.
Spray an even coat of adhesive onto the glass. Carefully place your picture down on top of the glue and smooth the paper out. Allow the glue to dry according to package directions.
Step Four: Paint on a clear texture.
Use an inexpensive paintbrush and apply the clear gloss in a thick, cross hatch pattern across the entire image. Allow the clear coat to dry and pop the glass back in the frame with the picture facing out. That's it!
I love the way surface of the picture has a subtle, glossy surface now. Here is a close up of how the texture turned out.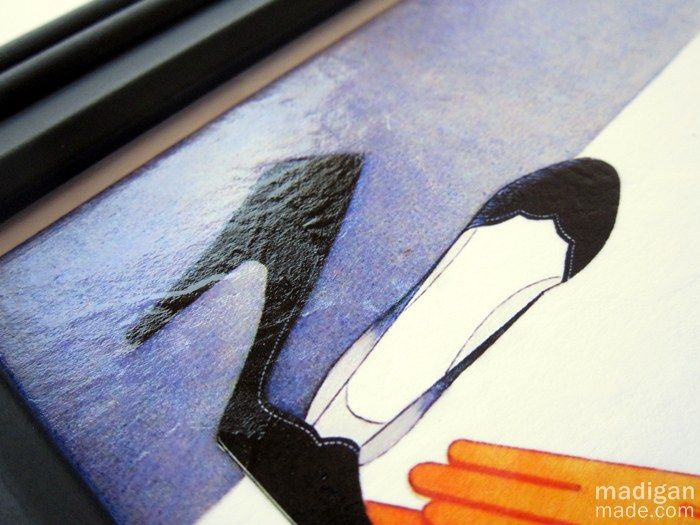 I can't wait to find a place for this frame in our home. I love the retro look of the image. It reminds me of Mad Men… but more importantly, it reminds me of a very creative lady… my grandmother!
Personal decor like this makes me smile.
If you ever stop by my blog (and I hope you do!), you will quickly learn that I am not a fan of generic wall art from 'big box stores'. I do my best to create personal wall decor whenever I can.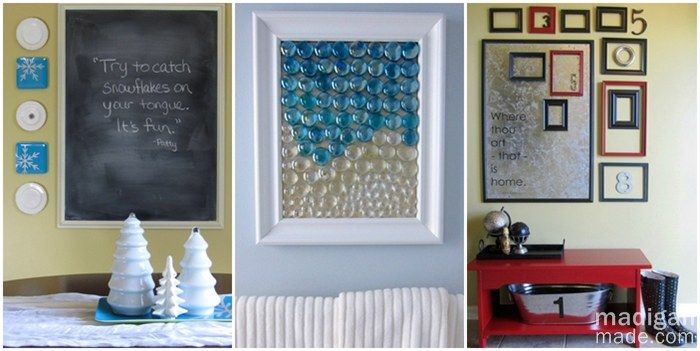 I made my own chalkboard for my kitchen and I change the quote each month. I created beachy glass gem art for our master bath. I also crafted a large faux mercury glass-like mirror for our foyer.
So, if you are looking for simple, DIY ideas for you and your home, be sure to stop by Madigan Made. Feel free to join me for more inspiration on Facebook and Twitter, too! In those forums I talk a lot about other blogs that inspire me, my love of coffee and cute pics of my dog. And I'm SURE to be talking about Mad Men when that starts! I'd love to have you stop by!
---
A huge thanks to Shannon for her wonderful tutorial! Madigan Made is one of my "Can't Miss" blogs, so be sure to visit if you aren't already a fan.
See a full list of the marvelous bloggers participating in the Mad for Mad Men series, and find any tutorials you may have missed HERE.