This is a Sponsored post written by me on behalf of
Carton Smart
for
SocialSpark
. All opinions are 100% mine.
Many of you will be doing your Thanksgiving meal shopping soon and picking up the ingredients for the stuffing, the pies, and the bird itself. Even if you have your menu plan down to a science, you are bound to have some ingredients left over after the cooking and baking is done. You can make these delicious Pumpkin Cranberry Bars with your leftover pumpkin puree, cranberry sauce, and pecans!
Thanksgiving Leftover Bars
2014-04-02 21:23:08
Nutrition Facts
Amount Per Serving
* Percent Daily Values are based on a 2,000 calorie diet. Your Daily Values may be higher or lower depending on your calorie needs.
BARS
1 c. flour
1/2 tsp baking soda
1/2 tsp salt
1/2 c. butter, melted
1 1/3 c. brown sugar
1 egg
1 T. cinnamon
1 tsp vanilla
1 c. pumpkin puree
1/2 c. craisins
2/3 cranberry sauce
ICING
1 T. fresh squeezed orange juice
1 1/2 c. powdered sugar
zest of one orange
1/2 c. chopped pecans
Instructions
Whisk together dry ingredients.
Cream butter and sugar, beat in egg, cinnamon, and vanilla.
Stir in pumpkin, then slowly add in the dry ingredients.
Fold in craisins.
Pour batter into a greased and floured 9x13 and drop spoonfuls of cranberry sauce over the batter. Swirl the sauce through the batter with a butter knife.
Bake at 350 for 30 minutes.
Zest and squeeze one large orange.
Add in powdered sugar until the frosting reaches the desired thickness.
Cool bars completely before frosting. Sprinkle bars with nuts.
Adapted from Baking Bites
Mad in Crafts http://madincrafts.com/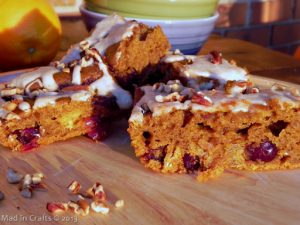 This delicious recipe will make sure that nothing goes to waste. (Whether or not the food goes to waist, is something you will have to take care of on your own.) Speaking of preventing unnecessary waste, did you realize how much waste can be avoided by purchasing Thanksgiving ingredients that are packaged in cartons rather than those packaged in cans?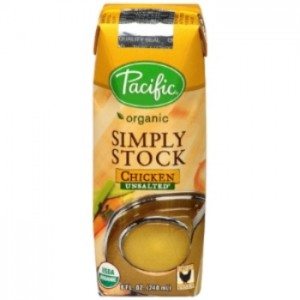 You may have seen these Tetra Pak cartons in your grocery store before and not really thought anything about them. As it turns out, swapping out a carton for a can makes a big difference!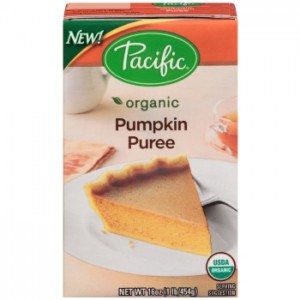 Tetra Pak cartons use 1/3 the packaging of cans! When you are a preparing a huge Thanksgiving meal, that greatly reduces the amount of junk you need to throw out at the end of the night.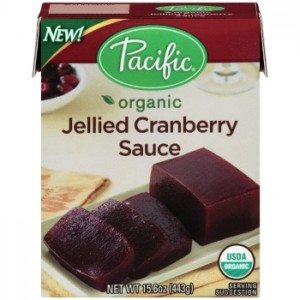 I am one of those people who think cranberry sauce tastes best when it is shaped like a can, but it turns out it's pretty delicious when it's shaped like the carton too!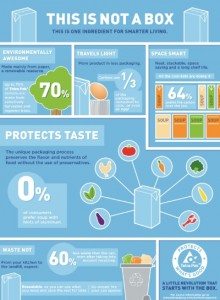 Pacific Foods is just one of the companies opting to Be Carton Smart. To find out more about the movement, Follow #CartonSmart on Pinterest or Tweet @CartonSmart.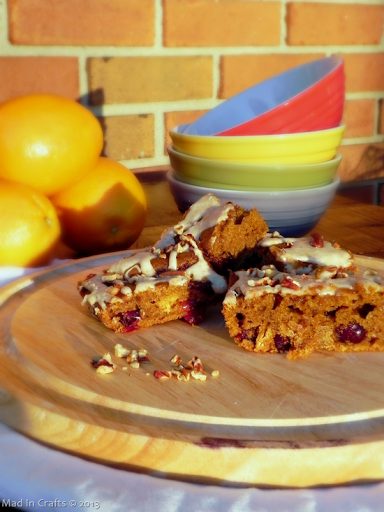 ---
Did you like this post? Think it's worth sharing? Please share with your friends using the social media share buttons on the toolbar at the bottom of the page!
Let's be buds.
Subscribe to the Mad in Crafts newsletter and get a FREE copy of my newest ebook, Happy Crafts: Nine Colorful Crafts You Can Make in 30 Minutes or Less.
Have you checked out the Mad in Crafts YouTube channel yet?