Welcome to the 51st Mad Skills Link Party! 
.
It's May already!  Things are finally warming up around here and we are able to spend a little time outside again.  To help you plan some family-friendly summer activities, The Brassy Apple has created a SOS series.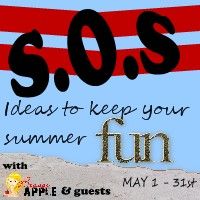 The Save Our Summer series will provide readers with a month of ideas for fun and kid-friendly projects to make your summer a memorable one.  Yours truly will be contributing a project along the way too!  More details about that as the date gets closer.  Add Brassy Apple to your blog reader so you don't miss an idea!
For the Mad Skills party, as usual you can link up a post, old or new, to share with other readers. The only rule for the party is that the post MUST BE A TUTORIAL. The tutorial can be written, pictorial, or a combination of the two, but it should be a project or a process that another crafter would be able to replicate. Any Mad Skill level, from novice to advanced, is welcome!
There is a new Mad Skills Tutorial Link Party button that can be found by clicking on the Buttons tab on the new menu bar.  Please add to your blog post or update your party pages!
Also, make sure to tell your bloggy friends about this party so we can get as many great entries as possible! You have until midnight(EST) on Thursday to enter your projects!