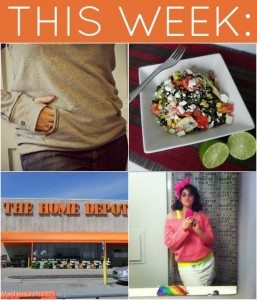 Spring has finally sprung here in Michigan, and we have been enjoying the fresh air and flowering trees.  I have been enjoying them through the windows of our house because I am indoorsy, but I have been enjoying them all the same.  I had some Spring-influence posts this week  too.  In addition to this week's Mad Skills Tutorial Party, I shared these posts:
How to Not Have a Crappy Lawn – Part One: Researching Products
How Not to Have a Crappy Lawn – Part Two: Visiting the Store
---
Thank you to these great sites for featuring me or my work recently:


---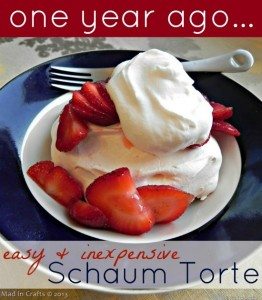 Last year I shared the recipe for an easy and inexpensive dessert that is perfect for Mother's Day.  Schaum Torte with Strawberries is an elegant and refreshing treat, especially if you can find fresh, ripe berries!
---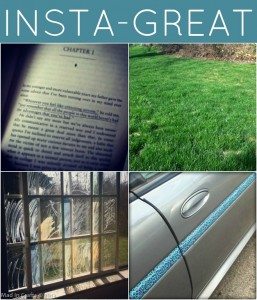 I like to share little peeks into life in The Mad House via my instagram account.  Here's what was up this week:
This week, I re-read The Great Gatsby for the umpteenth time to be ready for the Baz Luhrman movie that is coming out on the 10th.  I hope it lives up the novel, but it's hard to translate writing like that.
The fertilizer, rain, and sun have conspired to turn our crummy lawn into a thriving green jungle! Hooray!
We were so happy to be able to open windows this week and see some long-awaited sun streaming through the kid-decorated windows.
I thought I had seen every use for duct tape imaginable, but I was introduced to a new use thanks a car in the Wal-Mart parking lot!
Check out all my Pinterest boards for more fun, inspiration, and silliness.  You can also find me using any of the social media links found below.  Let's keep in touch!








Or you can sign up for the Mad Skills weekly newsletter
HERE
.
---

My NEW ebook is now for sale on E-Junkie.  Find out more about it HERE!
---
Did you like this post?  Think it's worth sharing?  Please share with your friends using the social media share buttons on the toolbar at the bottom of the page!
Thanks,  Jessica
previous post: How Not to Have a Crappy Lawn: Visiting the Store
next post: May the Fourth Be With You–15 Star Wars Crafts