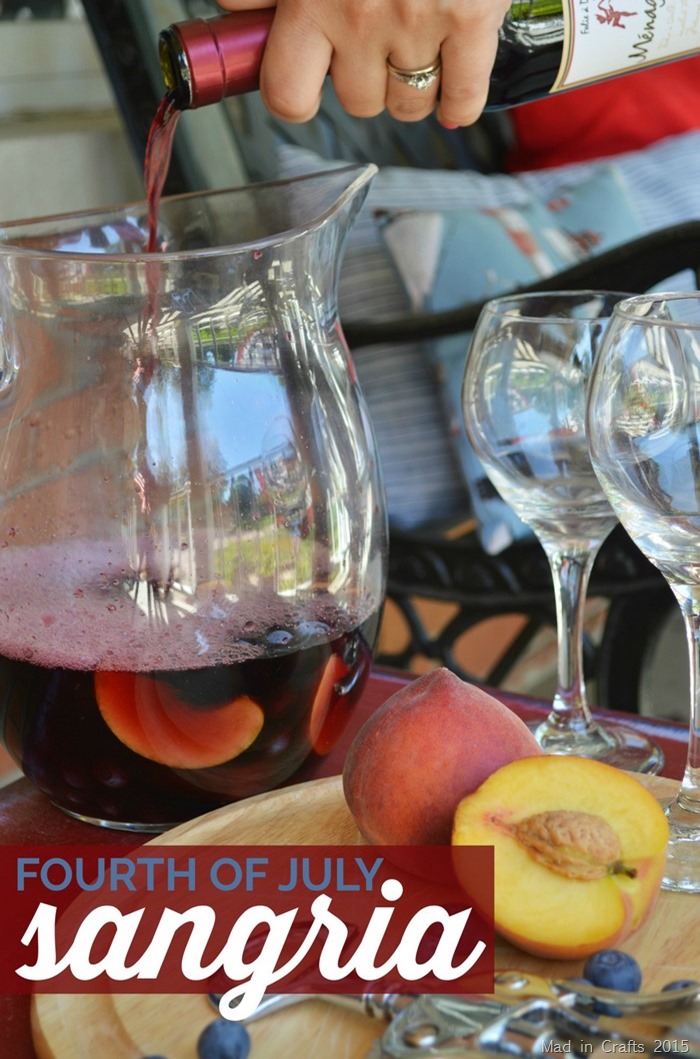 I am about to make a bold statement: Sangria is the best cocktail to serve at your 4th of July party. Forget margaritas, daiquiris, and rum & cokes, sangria is where it's at. Allow me to convince you.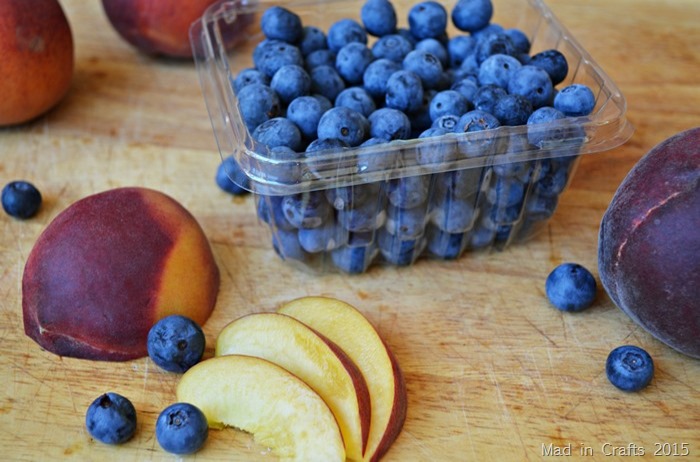 Sangrias use delicious, fresh summer fruits. Take a trip to your local farmer's market and check out what fruit is in season. Buy some. Put it in your sangria.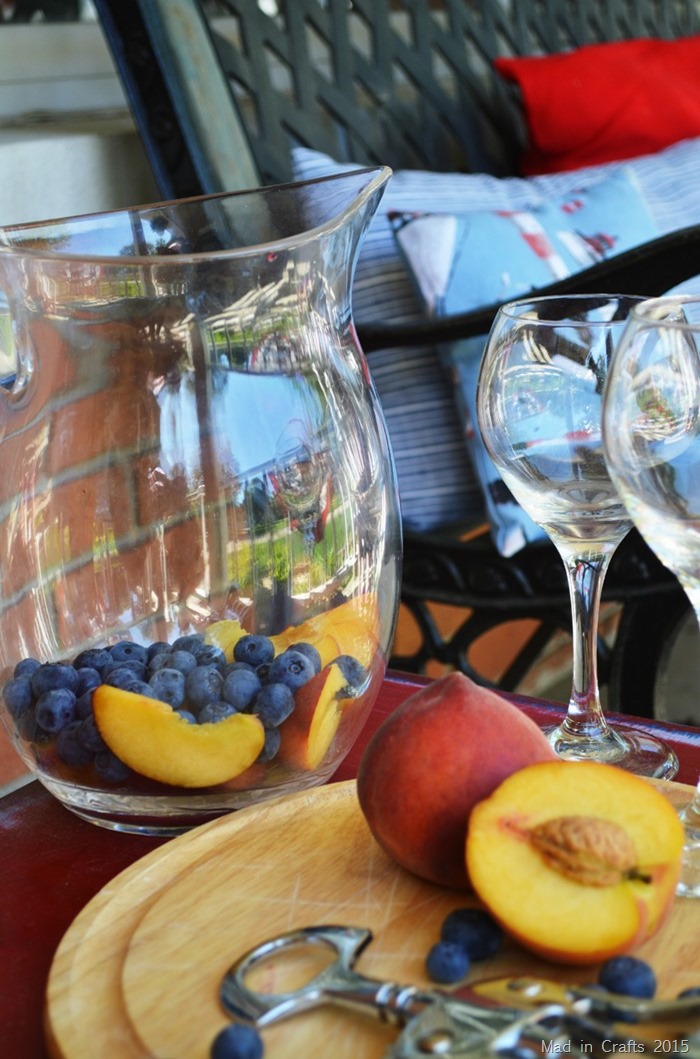 Every batch of sangria is an exciting new experience. Since you can make sangria from such a wide range of fruits and wines, you are free to tweak and adapt the recipe for each pitcher. A few more blueberries this time, a bit of pomegranate that time.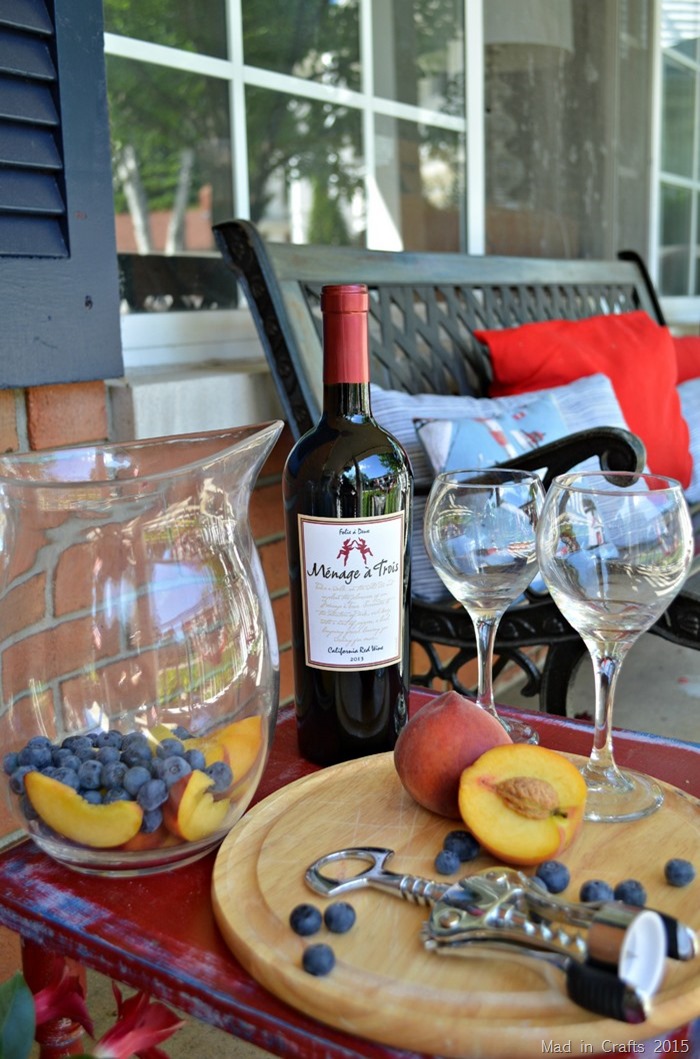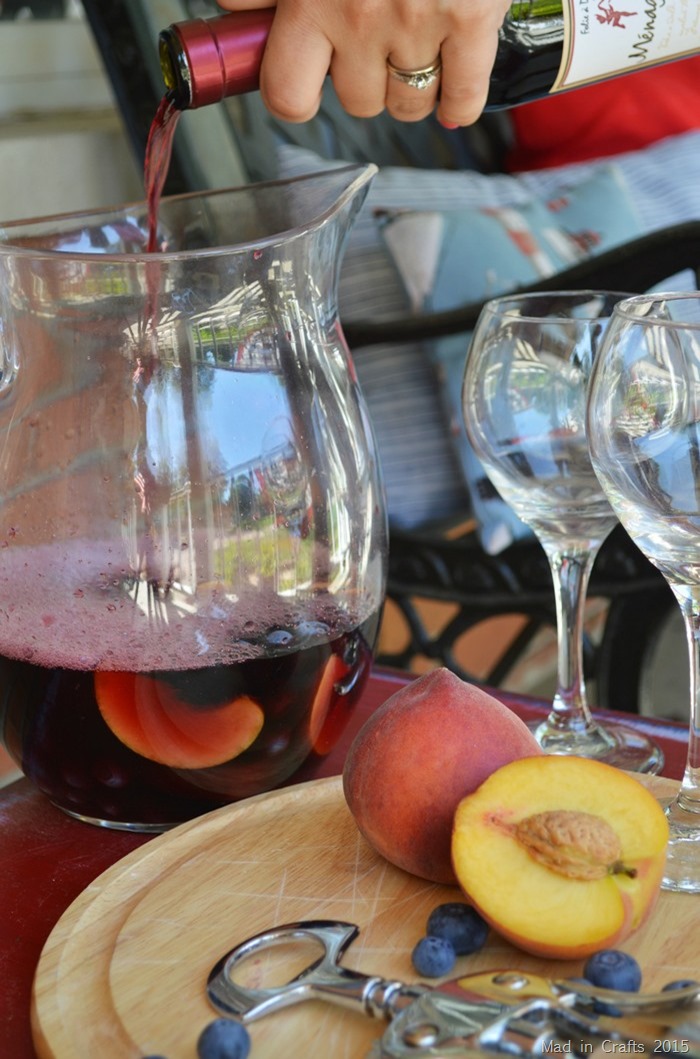 Sangria saves you prep time. Since sangria needs to hangout for a while before drinking, you can and should put a pitcher together well before the party starts. Instead of having to run around playing bartender during the party, you can relax and pour drinks for your guests from the already mixed pitcher.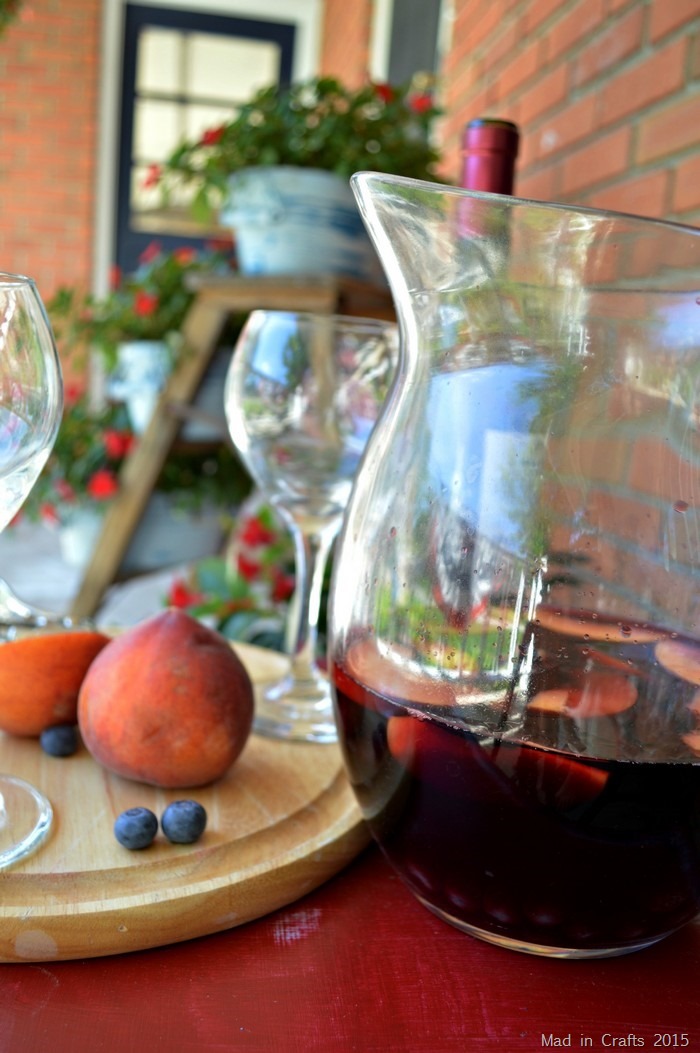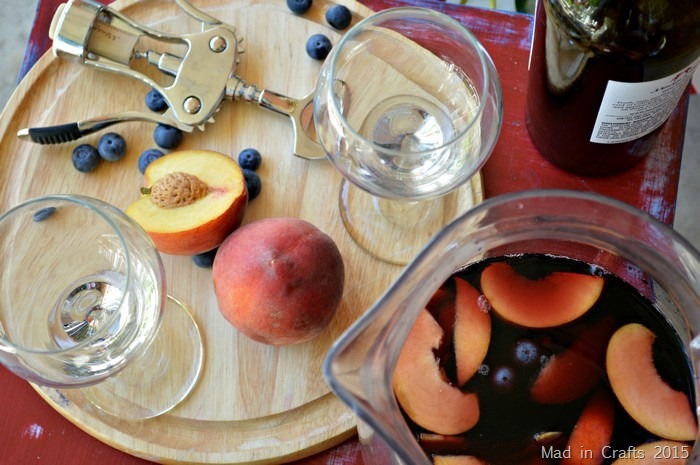 Sangria is a drink and a snack all in one. The ripe fruits flavor the wine and, when the wine is finished, you can eat the wine-infused fruit. What's not to like?
When you choose a wine for your sangria, be sure to pick a bottle that you would like drinking on its own. The 2013 Menage a Trois Red exposes the fresh, ripe, jam like fruit that is the calling card of California wine.
I chose to make a red, white, and blue sangria for the Fourth of July by using Menage a Trois California red, white peaches, and blueberries. You can change up the wine varietal and fruits to suit your palate and party menu.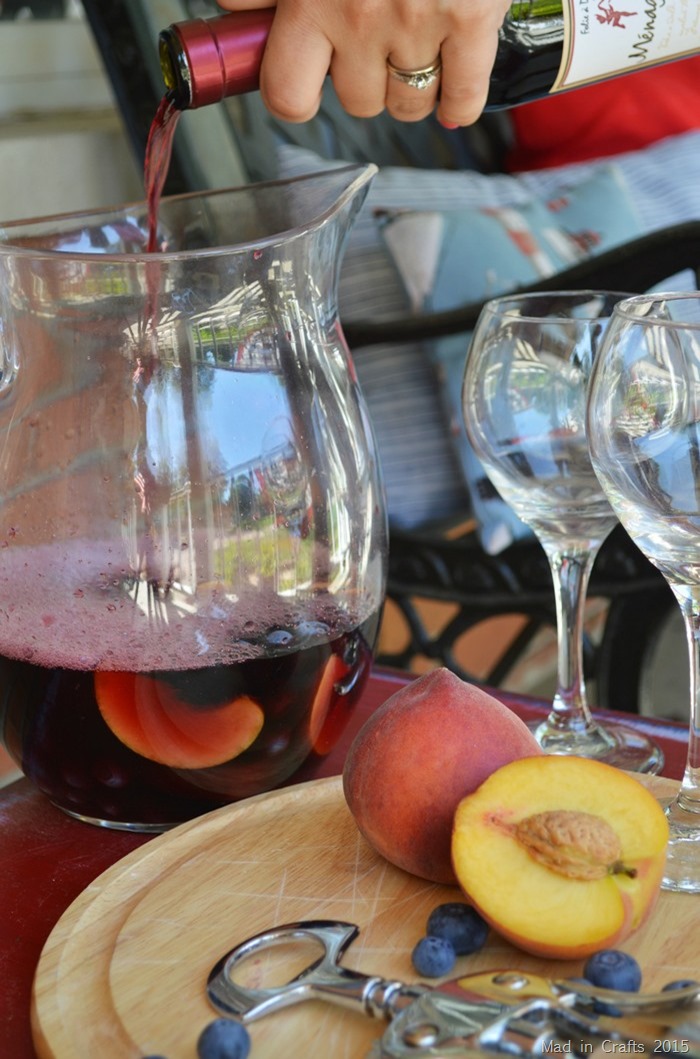 Fourth of July Sangria
2015-06-19 16:12:44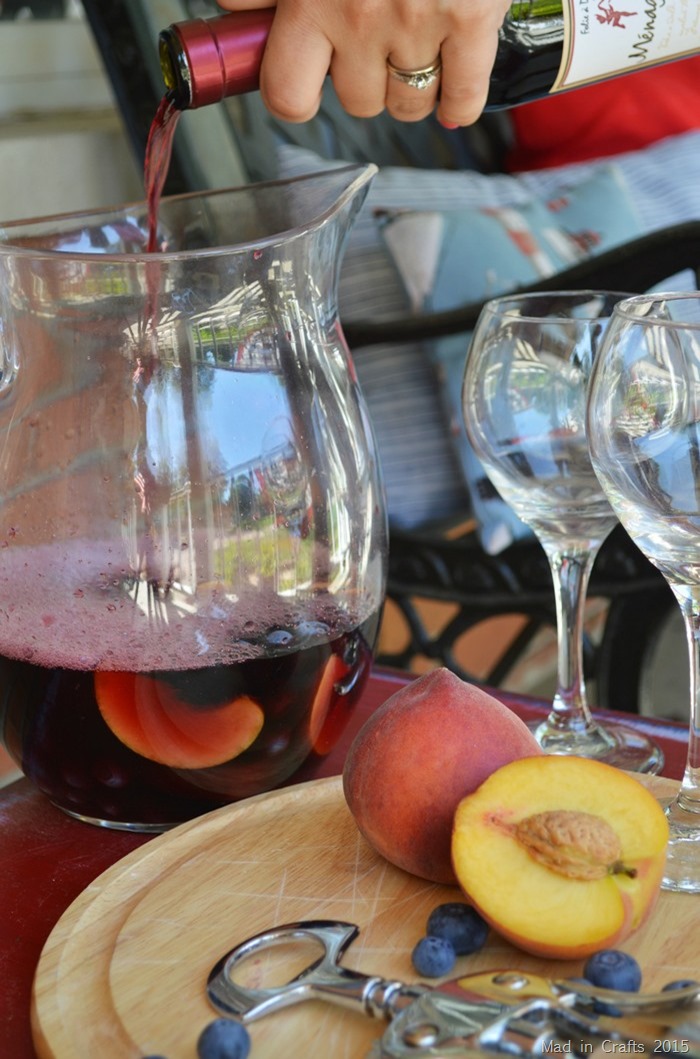 Nutrition Facts
Amount Per Serving
* Percent Daily Values are based on a 2,000 calorie diet. Your Daily Values may be higher or lower depending on your calorie needs.
Ingredients
1 bottle of red wine
1 cup fresh blueberries
2 fresh white peaches, sliced
2 cups tonic water, chilled
Instructions
Wash and slice fresh fruit and add to pitcher. Pour red wine over fruit. Chill 4 hours-overnight. Before serving, stir in chilled tonic water. Garnish glasses with fruit.
Mad in Crafts http://madincrafts.com/
For more information on Menage a Trois wine, follow them on
Facebook
,
Instagram
,
Twitter
, and
Pinterest
. Enjoy responsibly.
This is a sponsored conversation written by me on behalf of Menage a Trois. The opinions and text are all mine.
Let's be buds.
Subscribe to the Mad in Crafts newsletter and get a FREE copy of my newest ebook, Happy Crafts: Nine Colorful Crafts You Can Make in 30 Minutes or Less.
Have you checked out the Mad in Crafts YouTube channel yet?