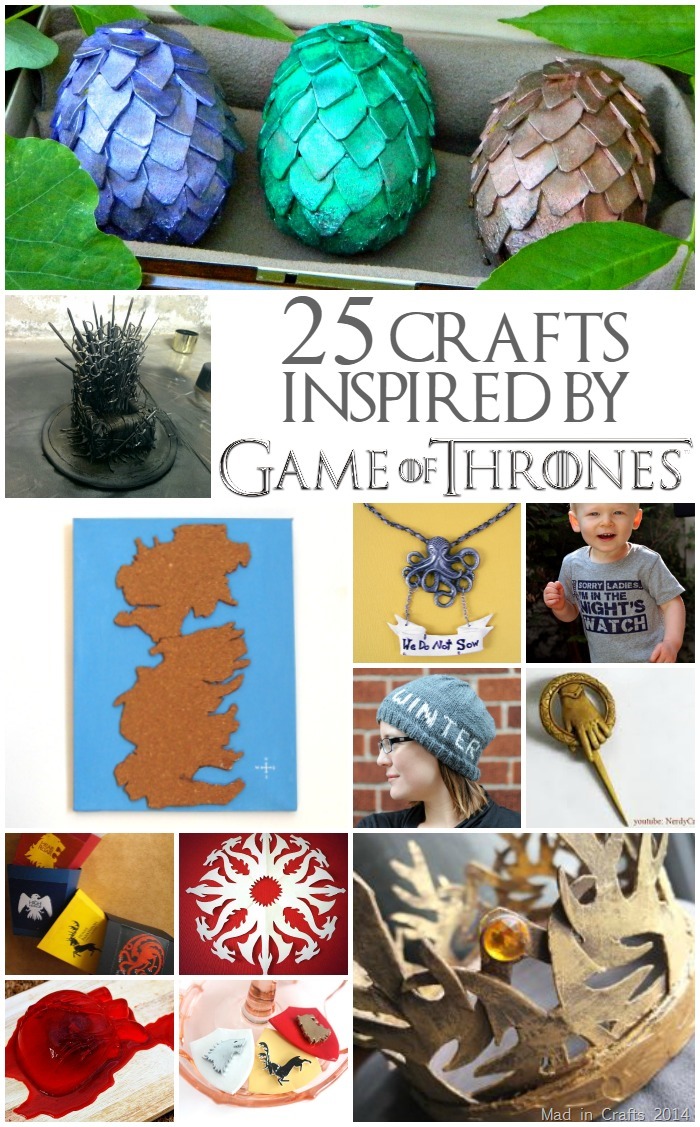 The new season of Game of Thrones is on its way, and I couldn't be more excited! I am a pretty big GoT nerd, so I gathered up a list of 25 Thrones-inspired projects to get you in the mood for fire & ice! Because when you play the game of thrones, you win or you DIY!
CORK WESTEROS MAP – GAMER WIFE
CROCHETED G.O.T. CHARACTERS – LOUIE'S LOOPS
DIREWOLF BLEACH TEE – CHANGING IDENTITIES (in German)
DIY IRON THRONE – FLAMING_PELE
DRAGON EGG NECKLACE – NERDECRAFTER
DRAGON EASTER EGG – MARK MONTANO
EDIBLE DOTHRAKI HORSE HEART – NOT YOUR MOMMA'S COOKIE
HAND OF THE KING PIN – NERDECRAFTER
HOUSE GREYJOY NECKLACE – THE CWAFTY BLOG
HOUSE STARK NECKLACE – ARTZIERUSH
HOUSE SIGIL KNITTING CHARTS- THAT KNITTING KIDD
HOUSE SIGIL TILE COASTERS – KALEIDOSCOPE
HOUSE SIGIL POPCORN BOXES – WOLFS CASTLE
HOUSE SIGIL SNOWFLAKES – LAUGHING SQUID
IRON THRONE PHONE STAND – MERICHUEL
JOFFREY'S CROWN – YOONIE AT HOME
MAESTER POISON VIALS – VALAINA-WILLIAMS
PAPIER MACHE DRAGON EGGS – INSTRUCTABLES
SHRINKY DINK HOUSE SIGILS – WRAPPED UP IN RAINBOWS
STARK CHILDREN SCRABBLE COASTERS – NICOLE TRIES DIY
TODDLER G.O.T. TEE – WHERE ALL THE SMILES HAVE BEEN
"WINTER IS COMING" KNIT HAT – KNIT THREE TOGETHER
"WINTER IS COMING" SCARF PATTERN – RAVELRY
Let's be buds.
Subscribe to the Mad in Crafts newsletter and get a FREE copy of my newest ebook, Happy Crafts: Nine Colorful Crafts You Can Make in 30 Minutes or Less.
Have you checked out the Mad in Crafts YouTube channel yet?