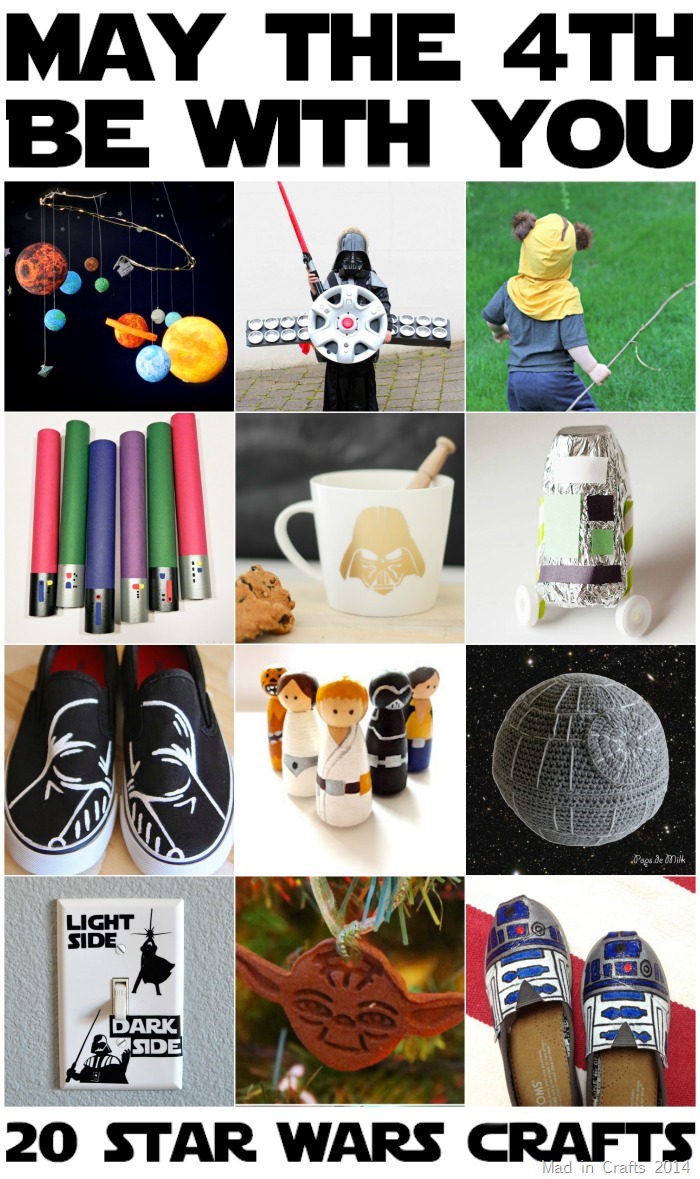 Tomorrow is Star Wars Day, and the interwebs are buzzing even more than usual. A new Star Wars film will be released this December, and my whole household is geeked to see Han, Chewie, and the others back in action. Have you seen the new trailers? So exciting! In honor of May the 4th, I have rounded up twenty fantastically nerdy Star Wars DIYs to keep you busy until the new movie is released!
CINNAMON DOUGH STAR WARS ORNAMENTS – MOM ENDEAVORS
CROCHETED DEATH STAR CUSHION – POPS DE MILK
DARTH VADER HOODIE – MAD IN CRAFTS
DARTH VADER MUG -SKONA HEM (in Swedish)
DARTH VADER SHOES – TWIN DRAGONFLY DESIGNS
DARTH VADER SIDE TABLE – SKONA HEM (in Swedish)
DEATH STAR MIRROR – MAD IN CRAFTS
DROIDS FROM RECYCLED MATERIALS – ALL FOR THE BOYS
EASY STAR WARS BLANKETS – MOM ENDEAVORS
FREEZER PAPER STAR WARS TEES – BOY OH BOY OH BOY CRAFTS
LIGHTSABER PARTY FAVORS – MAD IN CRAFTS
LIGHT SIDE/DARK SIDE LIGHT SWITCH – SISTERS WHAT
RAINBOW LOOM LIGHTSABERS – FRUGAL FUN 4 BOYS
STAR FIGHTER FROM RECYCLED MATERIALS – KATE'S CREATIVE SPACE
STAR WARS LUNCHBOX NOTES – MOM ENDEAVORS
STAR WARS PEG PEOPLE – THE YEWMAN PROJECTS
STAR WARS PLANET MOBILE – MAD IN CRAFTS
X-WING JEWELRY – PANDORA'S CRAFT BOX
Let's be buds.
Subscribe to the Mad in Crafts newsletter and get a FREE copy of my newest ebook, Happy Crafts: Nine Colorful Crafts You Can Make in 30 Minutes or Less.
Have you checked out the Mad in Crafts YouTube channel yet?